January 2019 marked the start of the 25th anniversary year for the George Washington University (GW) School of Medicine and Health Sciences' (SMHS) Office of International Medicine Programs (IMP). Since 1994, IMP's academic and clinical exchanges have left an indelible mark on the more than 12,000 GW and international faculty, staff, residents, fellows, and students.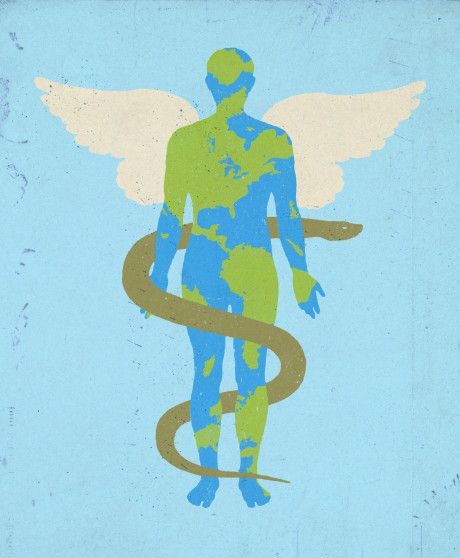 "IMP has transformed lives and improved health care delivery around the world through medical education, training, research, and service," says Huda Ayas, EdD '06, MBA '98, MHSA '93, associate dean for international medicine and founding executive director of IMP. "We've gone from working with one country to more than 50 around the world. If you look around, this is really a unique program."
IMP's roots lie in a partnership that formed between GW and King Faisal Specialist Hospital and Research Center in Riyadh, Saudi Arabia, in 1993. At the time, Ayas assisted with a needs assessment that identified a list of issues at the hospital, including shortage of physicians, and developed physician training programs to help bridge the shortfall. IMP also invited Saudi students to enroll in GW's dual-degree BA/MD program, recalls Ayas.
From that initial project, IMP has grown to feature highly successful international MD, residency, and fellowship programs. IMP also offers a medical research fellowship program, an international observership program, continuing medical education for international faculty, and international clinical rotations for GW medical students.
"We're looking at all of our accomplishments and successes over the past 25 years, and we are looking for ways to strengthen those areas," Ayas says, adding that she is preparing for the next steps for the program. "Research, patient care, education, and humanitarian aid; those are what IMP does well," says Ayas, "and we're only going to build on that in the future."
Medical diplomacy and bridge building have been hallmarks of IMP since the program's earliest days. Through an exchange of faculty, students, and knowledge, IMP has sought to broaden perspectives and change people's opinions about the world around them.
Not long ago, Jeffrey S. Akman, MD '81, RESD '85, vice president for health affairs, Walter A. Bloedorn Professor of Administrative Medicine, and dean of SMHS, approached Ayas about leveraging the extensive network of academic and clinical contacts the program has developed over the years to enhance the school's international collaborative research ambitions.
With that mandate, IMP launched the Global Research Initiative in an effort to elevate GW's international research profile and portfolio by partnering with internal and external stakeholders, facilitating scientific summits, and developing education and training platforms for students and scholars.
The efforts led to scientific meetings in Brazil, Thailand, and Spain. Ayas adds that IMP submitted a proposal to conduct a fourth scientific meeting at King Saud University in Saudi Arabia later in the 2019–20 academic year.
"This is really where we see the future growth for the Global Research Initiative, making contributions to GW and society by promoting international scientific collaborations and exposing researchers to their international counterparts, creating research training platforms for students," says Ayas.
In support of those expanded research ambitions, Fernando Vidal-Vanaclocha, MD, PhD, recently joined SMHS as an adjunct professor of biochemistry and molecular medicine and a research director with IMP. He will assist with the development and coordination of international scientific meetings, in addition to enhancing GW research collaborations with international medical and research institutions for the Global Research Initiative.
Tackling the Human Side
Humanitarian efforts are another area Ayas hopes to grow in the program. For the past 15 years, IMP has partnered with Project Medishare, a nonprofit health organization, to organize biannual interdisciplinary trips to Haiti. Faculty and students from SMHS, the GW School of Nursing, and the Milken Institute School of Public Health at GW travel to the town of Thomonde to provide care in one of the world's most resource-poor settings.
The trips, led by Jack Summer, MD, RESD '81, a former associate clinical professor of medicine at SMHS, along with infectious disease specialist Marc Siegel, MD, associate professor of medicine at SMHS, offer much needed care for residents as well as invaluable experience diagnosing and treating diseases of poverty.
Now, IMP staff are exploring additional sites to develop a sustained effort of humanitarian support. "We are looking for more communities where we can have an impact, possibly one in Uganda and hopefully one in Mexico," says Ayas. "Similar to our work in Haiti, we want to start sending students and faculty to [new places] to have a sustained impact on that community working with the local health care agents."
To help advance those goals, Ayas is tapping into GW's extensive alumni base. The site in Uganda, for instance, was part of an NGO, Omni Med, started by Ed O'Neil, MD '87. The most important factor, she explains, is finding the right partners who can help identify needs and build capacity over the long term to make a sustained difference.
Breaking Down the Barriers
Developing scholarships for SMHS students looking for international experiences is another area of emphasis for IMP. Often students choose not to participate in an international rotation for financial reasons.
"We are working to eliminate that barrier," says Ayas. "We don't want any SMHS student to rule out an international learning experience because of financial considerations. Money should never be a reason a student decides he or she can't study abroad."
To that end, in academic year 2018-19 IMP distributed nearly $67,000 in scholarships to support 26 SMHS students through the Leonard C. Akman Scholarship, the Max Kade Scholarship, the Haiti Medical Mission Scholarship, and the IMP Scholarships, formerly the International Clinical Electives Program scholarship.
"We're changing lives by providing opportunities to students and professionals that they otherwise would never have," Ayas says.
She adds that she is most proud of the fact that students who have participated in IMP offerings have gained a broader view of the world and have continued to seek out international exchange and humanitarian opportunities, and that the international students who have graduated from the program have gone on to make a positive impact at home.
"We want to continue to accomplish that," she says, "to develop high-impact programming to help people improve their health care systems and change people's lives for the better."