SMHS Taking Research Resources to Next Level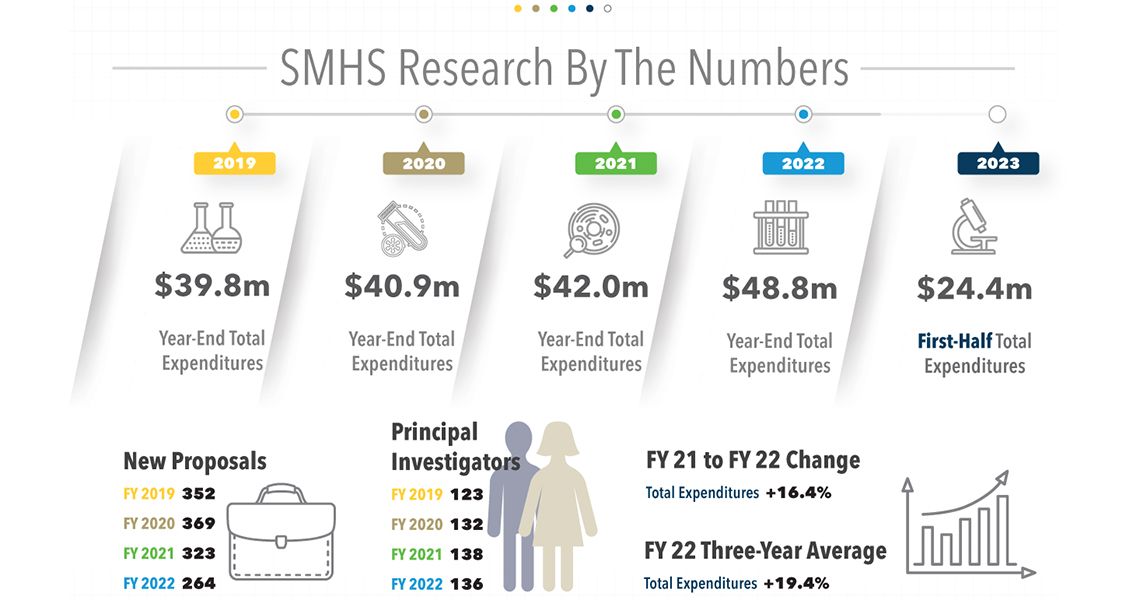 To strengthen the George Washington University (GW) School of Medicine and Health Sciences (SMHS) research roots, many departments and facilities across the school need to branch out.
"In order to do cutting-edge research, you need to have the facilities and resources to support that," says Robert H. Miller, PhD, vice dean for research and academic affairs, Vivian Gill Distinguished Research Professor, and professor of anatomy and cell biology at GW SMHS.
Establishing Infrastructure
That effort includes the establishment of the Office of Clinical Research, a centralized base for researchers on campus that opened in December 2021. "If we are going to recruit the best and the brightest, we need to provide an environment that will facilitate their research. That requires research space," Miller says.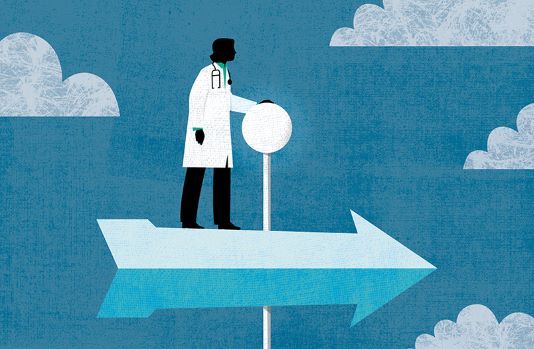 The Office of Clinical Research assists clinical investigators by providing resources to address compliance issues, management issues, and completion of paperwork needed to support research. Removing those time-consuming burdens frees up investigators. "The office provides a support system to facilitate all the activity — the interaction with the IRB [Institutional Review Board], the interaction with the Research Administration Office, the ability to develop contracts with particular sponsors, and the ability to manage the financial flow of the monies that come in to support the project," Miller says. "A lot of those activities will be eased for the investigator by having a central office that supports that activity."
The Office of Clinical Research also locates opportunities for the investigators by helping them answer a basic question: As an investigator, how do you know who is interested in supporting your research? The office is able to link investigators with potential sponsors to enhance those investigators' research activities. "Having people who know the field is like having a consultant for your own research," Miller says.
Recent fourth floor renovations to Ross Hall have increased research facility capacity for the GW SMHS Department of Biochemistry and Molecular Medicine. The value has gone beyond just square feet of research space. "It has an enormous impact," Miller says. "It is clear the institution values the activity and is investing in the activity. It makes people feel like this is a place that is moving forward and is not static.
"When we build new facilities and new space — I am thinking about facilities for the cell therapy production — this will provide opportunities for investigators to undertake research that would otherwise not be feasible."
In addition to future new facilities and renovated existing facilities, there is a value to projects still in gestation. GW SMHS has initiated discussions about building out a "freezer farm" that would maintain all the biological material that needs to be kept cold. This possibility has been met with enthusiasm by the researchers because it will ensure their biological specimens are preserved in a way that gives them confidence they can be used later. "You see a lot of positive energy resulting from these projects," Miller says.
SMHS Opens the Door to New Labs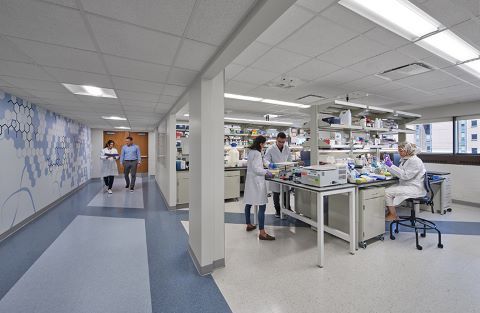 The GW School of Medicine and Health Sciences recently completed a $3.9 million, 13,500-square-foot lab construction project on the fourth floor of Ross Hall. The new Department of Biochemistry and Molecular Medicine labs boast cutting-edge technologies, including high-resolution cell imaging, single-cell RNA-sequencing, and live-cell metabolic measurement — providing better tools and more usable space for the researchers, faculty, and staff, as well as post-doctoral, medical, and health sciences students.
 
"This investment," said Robert Miller, PhD, vice dean for research and academic affairs and Vivian Gill Distinguished Research Professor at SMHS, "will ensure that Ross Hall remains a core research center on campus, providing researchers with modern, state-of-the-art facilities to help us support the sciences at SMHS and recruit for the future."
Harnessing Workforce Power
GW SMHS workforce development falls under the umbrella of the GW Institute for Biomedical Sciences (IBS), headed by IBS Program Manager Colleen Kennedy. The five programs within IBS are: cancer microbiology, neuroscience, pharmacology, physiology, and genomics. The program, which includes roughly 70 graduate students, has seen rapid growth in recent years. "Until a few years ago, an occasional student would get a fellowship," Miller says. "Over the last two years, we now have 19 fellows with federal or foundation supported fellowships. It says we are getting and training great students. We need that program to be vibrant because they are an engine of our research investigators."
Gina Lohr, senior associate vice provost for research at GW, and many of her peers have put a premium on strengthening the second major engine of research activity – the SMHS postdoc community. "We have relatively few postdocs for our investigators," Miller says. "Over the last year, Gina and many others have come together to improve that environment and make it more attractive and make sure we can recruit quickly."
Hurdles to Progress
Two years of pandemic protocols challenged the dual efforts of conducting research and enhancing recruiting efforts. During the height of the pandemic, many research plans were halted because people were not on campus. Processing specimens or doing experiments in a lab-based environment were two typical duties off limits.
Another challenge for researchers cropped up when community activities and in-person communication were both limited. "When you have groups of people working on a programmatic basis and you are not in the same place maintaining that activity and momentum, it is particularly challenging," Miller says. "People are now back in the labs and the rate of progress is increasing."
Considering those pandemic-related research gaps, the lack of verbal interaction has affected one group greatly – junior investigators. "They are more dependent upon interaction with their colleagues," Miller says. "Junior investigators took a real hit. It is a concern that we have a cohort of research talent that is going to take a little bit of time to catch up in their research development."
To enhance those lines of communication, SMHS has worked on dual programmatic and pipeline development during the last several years. That relies upon developing researchers – particularly from the graduate level up through the postdoc level, junior faculty, and mid-level faculty. The funding mechanism is National Institutes of Health-based T-Grants. "This is something we need to have on our radar because it does two things," Miller says. "It allows us to develop the next level of talent for our institution, and it allows us to continue to be a very vibrant research environment."
The programmatic support benefit reaches down to individual research disciplines. GW SMHS has a T-32 grant in cancer, one in HIV/AIDS, and another in health services research. "These are critically important," Miller says. "As we look toward the future, we need to be building not simply individual investigator support, but we need to be building programmatic support where we bring multiple investigators together. It comes back to building communities."