Postpartum hemorrhage — in which a woman experiences heavy bleeding after giving birth — is a rare but serious condition that, if not treated quickly, can result in shock and death. According to the American College of Obstetricians and Gynecologists (ACOG), postpartum hemorrhage accounts for about 10% of maternal mortalities. With the aid of a National Institutes of Health (NIH) career development grant, Homa Ahmadzia, MD, assistant professor of obstetrics and gynecology at the George Washington University School of Medicine and Health Sciences (SMHS), hopes to further minimize the chance of bleeding to ensure even more successful, healthy births.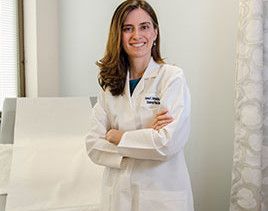 The measure of postpartum hemorrhage, as well as how one defines it, has changed over time, according to Ahmadzia. "In the last two or three years the measurement changed from 500 milliliters from standard delivery and one liter from a C-section. Now it is one liter across the board."
Ahmadzia's project is twofold. The first component is a statistical approach, attempting to optimize the prediction of who exactly is at risk for hemorrhage. "Clinically as OB-GYNs, we think of certain things, but they don't always correlate with the outcome," she says. "I've accessed and acquired different large data sets to pull all of the data together. First, I used traditional statistical modeling techniques to optimize prediction, and next I plan to use some machine-learning methods to look at these big data sets to hopefully optimize that prediction."
The second component involves optimizing the dosage of a preventive drug called tranexamic acid (TXA). Since the 1950s, the drug has been used to help reduce bleeding in dental procedures for patients with bleeding disorders, such as hemophilia. TXA also has been used in other surgical fields, such as transplant and cardiac surgery.
"In obstetrics there's always a concern that if you give a drug to reduce bleeding that stabilizes the body's ability to not bleed out, a pregnant woman could be susceptible to blood clots," Ahmadzia explains. "The dose finding study that I am doing is trying to optimize the safest, lowest dose to prevent severe bleeding."
In a large randomized international study called the WOMAN Trial, TXA reduced the chance of mortality from bleeding by 30%, especially if given early in the hemorrhage. The next logical question addresses prevention.
Over the course of Ahmadzia's study, she and her team will administer three different doses to scheduled C-section mothers in low, medium, and high doses, with the maximum dose being no higher than what was administered in the WOMAN Trial.
"As for current preventative measures, the standard of care is oxytocin, given typically through IVs and sometimes through injection through the muscle," she explains. "This is common practice in the United States. However, that's the only intervention tool; there's no other standard preventative medical therapy."
Ahmadzia says that now is a great time to conduct a project such as this one because of recent pushes from ACOG and the state of California identifying hemorrhage and blood pressure as key issues to tackle. She references a group in California providing resources toward investigating how physicians can reduce hemorrhage through identification and prevention, and also treatment.
"We don't 100% know if this will reduce transfusions at delivery, but it can reduce bleeding," says Ahmadzia. "It could also reduce length of stay and improve the mother's ability to care for her neonate. And it could reduce how many other medicines we give them. There are a lot of direct benefits for patients."
The study is made possible by a K23 grant from NIH. The K23 is a mentored career development award geared toward ensuring that a researcher has the right mentor team supporting him or her and early footing to continue as a clinician-scientist. "The NIH puts as much emphasis on the project idea and the content proposal as they do on the person applying and what they hope to do with that award to further their career," Ahmadzia says.
In addition to the external support and that of her mentors, particularly Naomi Luban, MD, and Johannes van den Anker, MD, both in the Department of Pediatrics at SMHS, she says she is appreciative of the internal support, noting the encouragement from Nancy Gaba, MD, Oscar I. and Mildred S. Dodek and Joan B. and Oscar I. Dodek Jr. Professor of Obstetrics and Gynecology, and chair of the Department of Obstetrics and Gynecology at SMHS. "Dr. Gaba is instrumental in supporting clinician-scientists and research interests. … if your institution and your department don't support you, this can be very difficult."
Looking forward, Ahmadzia was inspired by a recent encounter with Ian Roberts, MD, who is the senior investigator from the WOMAN Trial, to develop a multisite clinical study. Using the high patient volume and diverse patient demographics from hospitals throughout the D.C. metro area, she will pursue the important next step of determining whether the intervention works on a wider scale.