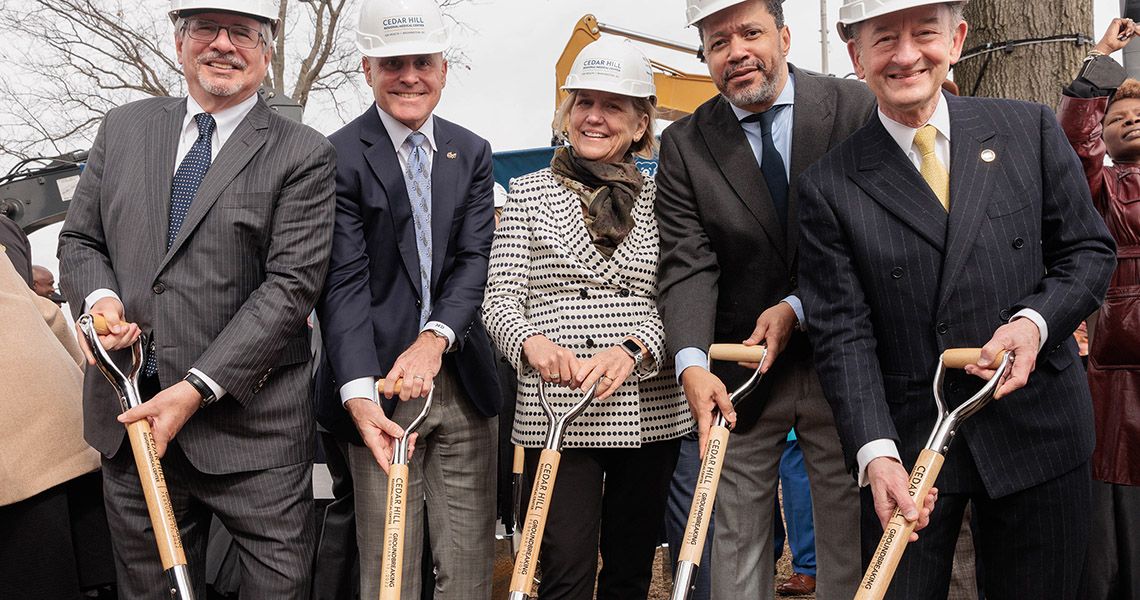 Last autumn, Washington, D.C., leaders and representatives from Universal Health Services, the George Washington (GW) School of Medicine and Health Sciences (SMHS), and The GW Medical Faculty Associates (GW MFA), cut the ribbon on the first of two urgent care centers in southeast Washington, D.C., key pieces of the Cedar Hill Regional Medical Center, GW Health — a new $403 million hospital complex in one of the city's most medically underserved communities.
"We have invested and worked long and hard for high-quality health care for all Washingtonians east of the [Anacostia River]," said Mayor Muriel Bowser. She thanked the community members in Ward 8 for their support, and Universal Health Services and GW for their investment in the health care infrastructure, including the new urgent care center.
"Access to health care is a fundamental human right. Our goal is to get an affordable, accessible, and available health care system for residents throughout our city," added Ward 8 Councilmember Trayon White. "We want to ensure all residents have access to medical treatment – at moments like this, we realized the future is getting brighter and brighter for those who were left out of the equation."
The opening of the urgent care center gets the city a step closer to fulfilling its vision for the comprehensive health care system, providing an array of services that will be fully integrated with the new hospital to create a healthier community for area residents.
When it's completed in early 2025, the state-of-the-art 136-bed, full-service hospital will be city's first new inpatient facility in more than 20 years. With features including an ambulatory pavilion for physician offices, clinics, and community space; a 500-car garage; and a helipad for emergency transports, the new 407,000 square foot medical center promises to significantly improve access to high-quality, integrated care for all District residents.
Universal Health Services, which operates GW Hospital, will run the new facility, while The GW Medical Faculty Associates and the GW School of Medicine and Health Sciences will serve as the physician and academic arm of the new complex, with Children's National Hospital offering pediatric care. GW will provide medical education, research, and technology to the new hospital and health services complex, creating an integrated, academic medical network. Cedar Hill will also expand opportunities for GW students and medical residents to provide care and to learn at this site.
Clinical services will include 36 physician exam rooms, newborn delivery with a neonatal intensive care unit; academic medicine and pediatric care; women's health services, including gynecology, maternal, breast care, pelvic floor care, fibroid and menstrual disorders, gynecologic oncology, neonatal intensive care, and high risk pregnancy-maternal fetus medicine; adult and child emergency departments; a certified trauma center; behavioral and mental health services, with 16 in-patient beds; operating rooms supporting a full range of planned and emergency health procedures; the full range of specialty care; and outpatient services such as physical therapy, dialysis, and chemotherapy infusion.
Named for Frederick Douglass's historic residence in Anacostia, these new health assets and investments, combined with the existing network of high-quality providers and clinics serving residents of Wards 7 and 8 can change the trajectory of health for the District's communities of color whose health outcomes are consistently lower: a resident born today in Ward 8 has a life expectancy that is 15 years less than a resident born today in Ward 3.
"We are thrilled to serve the health care needs of the people of Anacostia," said Barbara L. Bass, MD, RESD '86, professor of surgery, Walter A. Bloedorn Chair of Administrative Medicine, vice president for health affairs and dean of GW SMHS and CEO of the GW MFA. "As an academic physician faculty, we believe in patient-centered care provided by teams of health care providers to optimize delivery of health care on this campus.
"The most critical ingredient for success in health care is a trusted partnership between the health care provider and the patient. We are eager to build those bonds with the citizens of the community we will serve at Cedar Hill," Bass added.
"We're looking forward to providing convenient, accessible health care to address the health disparities that exist in our city."