Family history of breast cancer drives MD student's passion for oncology, health equality
Rehema Thomas knows firsthand the negative impacts of social determinants of health; her mother and two aunts had breast cancer and one of her aunts died from the disease. Now in medical school at the George Washington University (GW), she sees everything through that lens.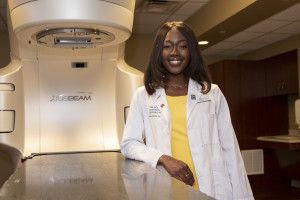 "They all had it pretty aggressively and pretty young. I've seen how social determinants of health affected my aunt, and I wonder if things had been different, would there have been a different outcome?" she says. "For me, especially being a woman of color, my family history of breast cancer has really made me focus on that and the fact that across almost all of the cancers, African Americans have a higher mortality rate."
Thomas is only a second-year MD student at the GW School of Medicine and Health Sciences, but she already knows oncology is her calling, and has found herself drawn to radiation oncology in particular. In fact, she recently participated in the prestigious American Society for Radiation Oncology's (ASTRO) Minority Summer Fellowship.
"Radiation oncology is a field that's lacking in diversity, and that is something I want to make a change in," she says. "I want to make a difference in these outcomes because everyone deserves an equal chance at survival and beating cancer."
Thomas' interest in medicine started when she was a child wandering the halls of the hospital where her father worked as a cardiologist. She recalls seeing him read echocardiograms, and remembers enjoying being with him at the hospital.
"A lot of the time we'd be in the telemetry unit and I'd be asking the nurses questions about the EKG readings on the screen," she says. "I naturally was drawn to math and science. I think [the medical field] is just the perfect thing for me."
Thomas discovered the ASTRO fellowship during a search for summer experience opportunities. It was created to introduce medical students from underrepresented backgrounds to the field of radiation oncology and to provide them with exposure to clinical, basic, and translational research.
During the summer, Thomas conducted research with ASTRO member Curtiland Deville, MD, clinical director of radiation oncology at Johns Hopkins Kimmel Cancer Center at Sibley Memorial Hospital, on the use of photon and proton therapies in soft tissue sarcomas.
In addition to the research, Thomas had the opportunity to join Deville on his rounds in the clinic, observing how he interacts with patients. "I really liked the consults because they were very educational," she explains. "Sometimes patients come in feeling very unsure, and I like that when they leave, they feel more confident about what they're going to do."
She also spent time in the clinic with other radiation oncologists, which allowed her to learn about additional cancers, including prostate, breast, lung, head and neck, and even pediatric cases.
"This experience has strengthened my desire for a career in radiation oncology," she says. "There are so many different advancements coming in the field, and it combines all the things I like, including imaging and being able to care for patients, and there's a genetics aspect to it."
Thomas is grateful every day to be in medical school. "I'm following my dream, and not everyone is lucky enough to say that."