Reflecting on Years of Accomplishment at the GW School of Medicine and Health Sciences
On Jan. 17, 2019, an email went out to the George Washington University (GW) School of Medicine and Health Sciences (SMHS) community with a major announcement. After more than eight years as Vice President for Health Affairs at GW and Dean of SMHS, Jeffrey S. Akman, MD '81, RESD '85, would step aside following the completion of a national search for his successor.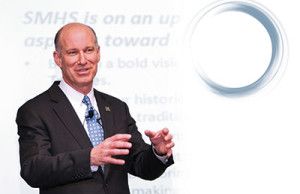 "I have been tremendously honored for the past eight years to serve as GW Vice President for Health Affairs (VPHA) and Dean of my alma mater," he wrote in a statement sent to the SMHS community. "SMHS students, faculty, residents, and staff have all been incredible partners on this most rewarding journey and have inspired me as we've made significant progress."
One of Our Own
The VPHA/Dean position was never supposed to be the last stop for Akman. The average term of a dean is roughly five years, according to the Chronicle of Higher Education. He was just 54 years old when then-GW President Steven Knapp tapped him in December 2010 to serve in the dual role on an interim basis. Seventeen months into Akman's tenure as interim dean, the GW Board of Trustees gave the go-ahead to begin a nationwide search. By that time, however, faculty members were already at work casting their support for Akman.
Uncertainty about dissolving the Medical Center and moving to a new administrative structure under the leadership of a new dean, one who would be unfamiliar with the unique relationship between the university, SMHS, and its clinical partners, including GW Hospital, the GW Medical Faculty Associates (MFA), and Children's National Health System, left the faculty feeling rattled.
"His biggest contribution has been to keep everybody together with as little rancor as possible," says Alan Wasserman, MD, chair of the Department of Medicine and Eugene Meyer Professor of Medicine at SMHS and former president of the GW MFA, who orchestrated a petition for the chairs and faculty members to make Akman's appointment permanent. It was a turbulent time, he recalls, and faculty members were nervous about the changes; they wanted someone they could trust.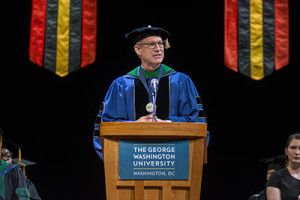 To his credit, says Wasserman, Knapp listened. "He saw the value in promoting a dean with such a groundswell of support from the faculty. "Things are different now," he adds. "The MFA and the university have a closer relationship. It's a different era. Jeff Akman was that bridge."
It's hard to argue the credentials Akman brought to the table; few people have seen GW from as many angles. A double alumnus, he earned his medical degree from SMHS in 1981 and completed his psychiatry residency in 1985, rising to chief resident before the end of his training. He earned the school's Distinguished Teacher Award in 1998, and in 2005 was selected as one of four recipients of the 46th Annual Alumni Service Awards. He even authored the MD program oath and established the program's White Coat Ceremony.
Before rising to the ranks of VPHA and Dean, Akman served on the leadership team of former SMHS Dean Robert Keimowitz, MD, first as an assistant dean for student educational policies and later as associate dean for student and faculty development and policies. As the Leon M. Yochelson Professor and chair of the Department of Psychiatry and Behavioral Sciences, Akman served in both an academic and a clinical capacity, encompassing all three aspects of the GW clinical partnership. Those experiences, says Wasserman, made Akman an unbeatable candidate to tackle the administrative challenges of being a dean at GW.
Strategic Thinking
Almost immediately after his interim appointment, Akman led the development of a new strategic plan to guide the school, one that would be more than just a conversation starter. It had to be an active, living, breathing plan.
During a town hall meeting shortly after he took office, Akman laid out an ambitious list of priorities that would go on to define his strategic vision — leadership, education, discovery, community, and clinical excellence — priorities that would become the pillars of a four-year strategic plan.
"When we published the new strategic plan for SMHS, we established the impetus for momentum and growth in key strategic areas," says Akman. The plan mapped out the route the leadership team would use to allocate resources. Fleshing out those themes was an emphasis on affordability, curriculum enhancement, research, and a commitment to diversity and inclusion.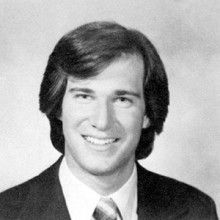 That latter theme was the first among the efforts undertaken. Akman formed a Diversity and Inclusion Task Force to identify action items that would position SMHS as a national leader in promoting diversity. He also directed the group to revise the school's mission statement and ensured that diversity and inclusion were featured prominently.
"This has been a very important issue for me," Akman says. "As a gay man, issues around diversity have been paramount in my career as well as in my personal life. So, that was one of the first things I wanted to tackle."
In addition, Washington, D.C., is a city with significant health disparity problems, and Akman felt a sense of responsibility to the community. "That's a bold thing to add to any mission statement," he says. "One that is difficult to measure, but it speaks to how we think about curriculum, how we think about investment in the community, how we think about research that can address these sorts of issues."
Yolanda Haywood, MD, RESD '87, BA '81, was tapped to serve as senior associate dean for a new Office of Diversity and Inclusion tasked with developing strategic initiatives and identifying diversity opportunities in faculty development, academics, and research. "I think this has been something Dean Akman has been passionate about since the moment he took the lead of SMHS as interim dean," says Haywood. "Dean Akman made diversity and inclusion part of what we do every day."
With Akman at her back, Haywood fortified existing programming, such as the DC Health and Academic Prep Program and Upward Bound, with new offerings including the Pre-Matriculation program, the Mentored Experience to Expand Opportunities in Research program, and a host of seminars and training sessions on topics including unconscious bias and cultural competency.
In the six years since it was established, the office has had a noticeable impact on the representation of African Americans, Hispanics, and people from socioeconomically disadvantaged backgrounds, as well as increasing diversity in gender and sexual orientation. Combined, students who identify with those groups grew from 24 percent of the MD program population in 2016 to nearly 38 percent in 2018. By the start of the 2018-19 academic year, the MD program welcomed its most diverse class in SMHS history. Sixty-three percent of the class of 2022 are women, the largest percentage of an incoming class in SMHS history.
SMHS also established numerous pipeline programs for high school and college students from communities underrepresented in health care, such as the Health Sciences Program's Governor's Health Sciences Academy at T.C. Williams High School, designed to encourage high school students from communities traditionally underrepresented in academic medicine to explore the many career options available in health care; the GW Summer Program Advancing Research on Cancer, to promote diversity among the pool of students pursuing biomedical research PhDs; and the Medical Laboratory Sciences Summer Immersion program, offering prospective students the chance to dip their toes in a field with high employment demand.
"When I think of Jeff Akman's legacy, what comes to mind is that he is the heart and the brain of the GW School of Medicine and Health Sciences," says Lawrence "Bopper" Deyton, MD '85, MSPH, senior associate dean for clinical public health and Murdock Head Professor of Medicine and Health Policy at SMHS. "When I look at the things that I am most proud of about this institution where I trained and I now work, I am most proud of the culture of acceptance, humility, and diversity."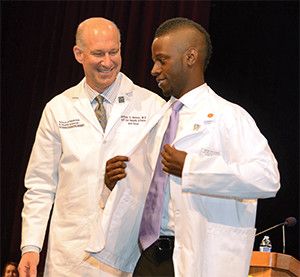 An Eye on Education
As the groundwork was being laid in early 2011 for the MD program's next accreditation cycle, Akman felt it also was important to address the MD program's curriculum, incorporating new technologies, interprofessional learning, and novel educational modalities.
The MD curriculum, says Akman, had remained "essentially unchanged since I was a medical student in 1977." There had been some revisions over the years, he adds, but the basic format was the same — the first two years focused on basic sciences and the second two on clinical medicine. "It never made sense to me to learn about the anatomy and histology of the heart in one semester, the physiology of the heart in the next semester, and the pathology of the heart the following year. It's just not how doctors think."
A Curriculum Oversight Group was established to create an innovative educational infrastructure. Its members came up with a shortened and integrated preclinical curriculum, allowing for more time for independent learning while emphasizing active-learning pedagogies supported by early clinical experiences. The revised curriculum also made use of GW's unique location in the nation's capital by incorporating clinical public health into the students' learning. By June 2016, the revised curriculum was fully up to speed, and the MD program earned a full eight-year accreditation from the Liaison Committee on Medical Education.
During the same time, the nationally ranked Physician Assistant (PA) Studies Program at GW earned a full seven-year accreditation from the Accreditation Review Commission on Education for the Physician Assistant, followed by a revision of its own curriculum. In 2017, the Health, Human Function, and Rehabilitation Sciences Department's Physical Therapy program received a full 10-year reaffirmation of accreditation from the Commission on Accreditation in Physical Therapy Education. In addition, distance education programs were expanded and a new PhD program was started in Translational Health Sciences.
Improving the Student Experience
"Making school more affordable and enhancing value have been priorities for me as dean. GW was viewed as one of the most expensive medical schools, and I wanted to change that," says Akman. The school has invested significant resources in an effort to reduce the student debt load and raise money for scholarships, and also initiated a program to buy student debt. By "bending the tuition curve" and slowing the growth of tuition in relation to other schools, his efforts paid off. Among U.S. medical schools from 2011 to the present, the SMHS MD program dropped 18 spots on the total cost of attendance ranking (from 15 to 33).
The total student scholarships and grants more than doubled in the same period, moving SMHS into the top 20 in terms of financial assistance; and remarkably, SMHS fell nearly 40 spots on the list of average indebtedness among graduating medical students.
In addition to addressing affordability, the school focused on bringing technology into the classroom and increasing student engagement opportunities. Today, incoming MD and PA students use the latest in educational technology, including iPads, and improvements to classrooms and educational, study, and lounge spaces have been a hallmark of Akman's tenure. Examples include the state-of-the art, 17,000-square-foot Clinical Learning And Simulation Skills Center located on the fourth floor in Ross Hall, as well as new and expanded teaching labs for the doctor of physical therapy program.
Raising the Profile of Research
In focusing on research, Akman and his leadership team identified three principal areas of investment — neuroscience; HIV/AIDS and microbiology, infectious disease, and tropical medicine; and cancer. "We realized we can't do everything," Akman says. "We had to be strategic and focused in the areas in which we chose to invest."
Akman hired Robert Miller, PhD, senior associate dean for research and Vivian Gill Distinguished Research Professor at SMHS, who now also serves as GW's vice president for research, to lead the investment in research. At the time, GW ranked near the bottom on a list of National Institutes of Health sponsored research awards. Using the 2015–18 strategic plan as a model, the school has hired more than 40 new research faculty in areas of strength including cancer, neuroscience, and infectious disease, signaling a profound commitment to growth. An emphasis on investment in supporting research in clinical departments and workforce development rounded out the efforts. Between 2015 and 2018, SMHS saw research space significantly increase including on the eighth floor of the Science and Engineering Hall, annual proposal submissions jump from 210 to 346, and new awards rise from 50 to 86.
Outside the Box
Expanding the school's relationships through community partnerships, pipeline programs, and global partnerships has been a central part of Akman's strategic vision. During his tenure, international affiliations have grown to more than 150 and new programs have expanded to include global research partnerships and a broad range of educational and training opportunities for learners at GW and around the world.
Through a bequest from his father's cousin, Leonard Akman, MD '43, the dean created the Akman Professorship in Global Psychiatry and the Akman Scholarships to support international travel for GW medical students on the global health track in the MD Program. The dean and his family also established The Charles and Sonia Akman Fellowships in Global Psychiatry.
Moving Forward
Akman has stated he will stay in his position until a new dean is found before starting a sabbatical. The university has secured a firm to conduct a national recruitment search, and the faculty senate has formed a search committee. It's not clear, however, how long it will take to find someone to fill Akman's shoes.
"I've been here 41 years," he says, "so it's hard to imagine not being here. But when you look at what we've accomplished and you look at where the university is in terms of stability, this was the right time. … It's remarkable how the school has evolved. I think we are primed for another great decade ahead and, as a faculty member and an alum, I look forward to continuing to contribute to my alma mater's progress."
---
An Endowed Fund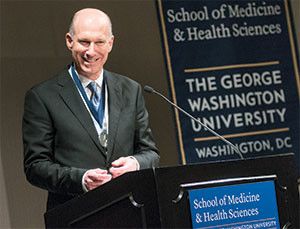 In honor of the decades of service to the George Washington University School of Medicine and Health Sciences (SMHS) by Vice President for Health Affairs and Dean Jeffrey S. Akman, MD '81, RESD '85, the school has initiated the Jeffrey S. Akman, MD '81, RESD '85, Innovation Fund. The endowed fund will provide seed grants and pilot funding to launch student, resident, and faculty projects. The endowed fund will support innovative projects designed to transform ideas into results through intergenerational collaboration. Projects addressing the full range of the academic mission of SMHS will be accepted.
Grants will be awarded annually to faculty-student and/or faculty-resident teams through a competitive process. To support the fund, please visit go.gwu.edu/akmanfund.