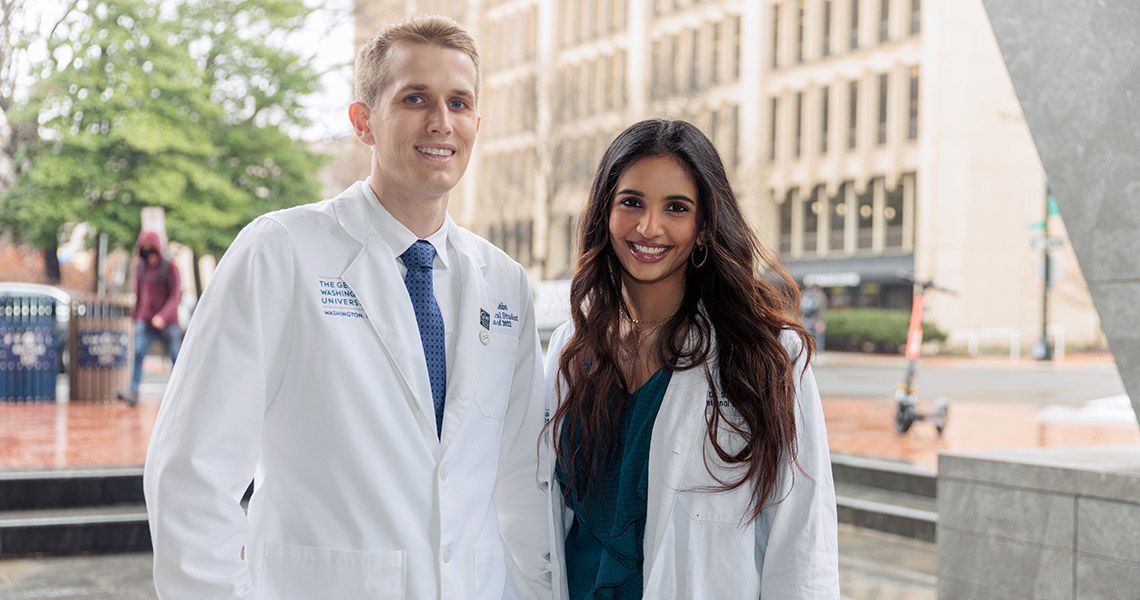 Inspiration, for many medical researchers, can emerge from a spectrum of experiences: mundane observations, a passing thought, critical examinations of curious patterns. Wyn Dobbs, a member of the MD Class of 2023 at the George Washington University (GW) School of Medicine and Health Sciences (SMHS), and Shaitalya Sri Vellanki, MD, a second-year internal medicine resident at GW SMHS, discovered a boots-on-the-ground approach proved most fertile for ideas.
As the inaugural recipients of the Akman Innovation Fund — created in honor of Jeffrey S. Akman, MD '81, RESD '85, former GW SMHS dean, and designed to foster ideas, support mentorship, and promote clinical innovation — the two are delving into research that targets two areas: the exploration, understanding, and treatment of COVID-19, and innovative approaches to eliminating health disparities.
As the COVID-19 pandemic has restructured society and medicine, it has also been a powerful influence on Dobbs. He started as a contact tracer for the Mississippi Department of Health before shifting to more clinical work at GW SMHS. He served as a research assistant on the Moderna COVID-19 vaccine trial at GW and as senior research assistant and project manager of The GW Medical Faculty Associates (MFA) COVID-19 Recovery Clinic and Biorepository.
While researchers are still untangling the effects of post-acute sequelae of COVID-19 (PASC), or long COVID, Dobbs, thanks to his time at the clinic, has identified a potential relationship between the disease and pre-existing asthma. With the Akman Innovation Fund, he's planning to use the clinic's unique data to pinpoint patients with asthma and varying levels of COVID severity to "observe any differences in pulmonary symptoms."
"Understanding the relationship between PASC and asthma is incredibly important to characterize the risk profile of patients suffering from asthma," Dobbs said. "Findings from this study can lay the groundwork for future investigations in determining the best treatment regimens for these patients."
Vellanki, meanwhile, discovered emerging narrative themes from the niche corner of creative writing and clinical work in underserved Louisiana communities.
"Serving this patient population sparked my interest in journalism and narrative medicine," she says. "I began to creatively write patients' stories to be shared in online literary journals and realized the common themes always centered on barriers in accessing medical care, treatments, and follow-up appointments."
Vellanki focuses on cardiorenal medicine, the study of how obesity and metabolic conditions promote the progression of heart and kidney disease. She has hypothesized that a multidisciplinary team supporting a primary care physician, rather than a group of siloed specialists typical with a referral-based care model, will be more effective for patients with heart failure and chronic kidney disease.
This cohesive team approach, which has been the mission of the GW MFA-based multidisciplinary Cardiorenal Program, could create better treatment plans, ensure better implementation rates for guideline-directed medical therapies, and help overcome patients' barriers in accessing complex care.
"I hope to present the data I obtain in both the research literature and narrative medicine/medical journalism spaces with the goals of improving access to advanced medical treatments, decreasing barriers to access sub-specialty care, and, most importantly, promoting patient advocacy," she says.
As part of the mentorship component of the fund, Dobbs worked with Adrienne Poon, MD, MPH, assistant professor of medicine at GW SMHS, and Vellanki with Janani Rangaswami, MD, professor of medicine with the Division of Nephrology at GW SMHS and the GW MFA, director of the GW MFA Cardiorenal Program, and chair-elect of the Council on the Kidney in Cardiovascular Disease of the American Heart Association.