A Life-Threatening Injury Led Fatima Koroma on a New Career Path Along the Road to Recovery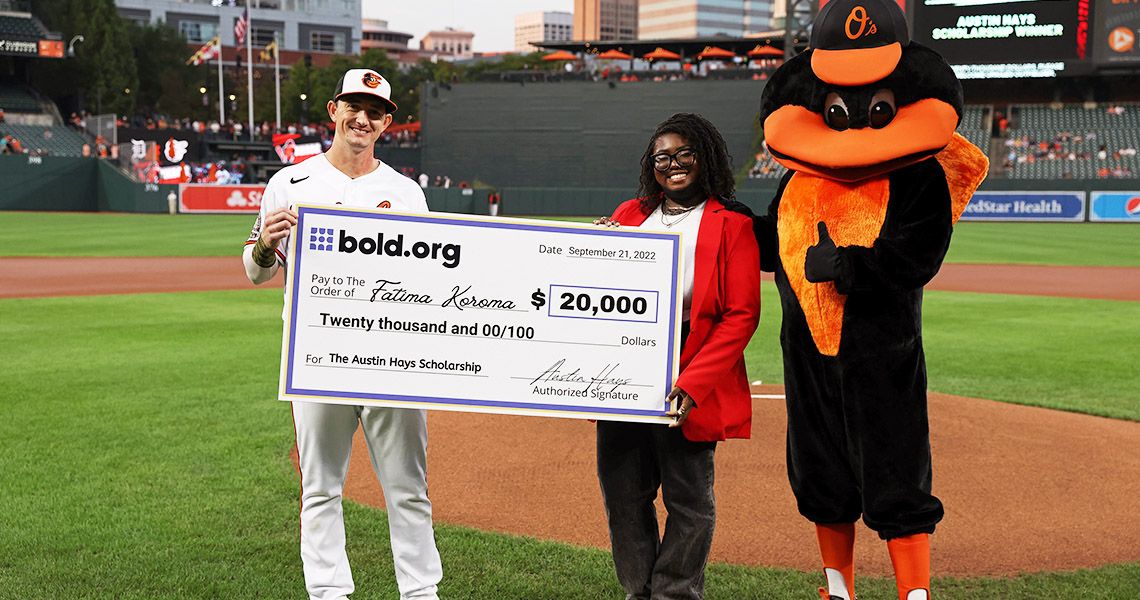 As she stood on the infield of Camden Yards, looking out at the crowd on hand for the Baltimore Orioles home game against the Detroit Tigers, Sept. 21, 2022, Fatima Koroma couldn't help marvel at how much has changed in the past two years.
The first-year Doctor of Occupational Therapy student at the George Washington University School of Medicine and Health Sciences was on the field that night to receive the Austin Hays Scholarship, a charitable fund established by star Orioles outfielder Austin Hays. The scholarship, for Maryland students in need of financial support to pursue higher education, was matched by the Orioles Charitable Foundation bringing the award to $20,000.
What it took to get to that moment, however, was inspirational.
On Nov. 11, 2020, just three weeks after her 21st birthday, a house fire left Koroma with second- and third-degree burns over a third of her body.
"Fatima's perseverance is incredible," said Austin Hays in an announcement of the award. "I was so impressed by her scholarship essay, and I was honored that she shared her story with me."
After running some errands on the morning of the accident, followed by a regular checkup at the dentist, Koroma stopped off at Target to treat herself. She recalls, "I was just trying to try to spruce up my life, I thought, 'I'll get a candle and enjoy a relaxing day.' "
From there memories are just snippets: a tipped candle, a flame that became a fire, surprise that turned to shock, and then panic. Before long she was in an ambulance rushing to the hospital. It was three days before Koroma woke up and began to understand what had happened. With burns over her torso, hands, right arm, and a bit of her chin, Koroma would spend the next four weeks in the intensive care unit, followed by an additional three weeks on the burn floor.
The injuries would require scores of skin graphs and, along the way, constant effort to maintain flexibility and regain mobility and function.
During her time in the hospital, Koroma recalls, she found comfort from the team of occupational and physical therapists who began working with her almost from the start of her recovery. Her occupational therapist (OT) in particular, took an interest in Koroma's life beyond the accident. The two talked about family and plans for the future, making the young Maryland native feel normal.
"The trauma and the changes in my physical appearance were extremely hard to handle," she recalls. "I felt immense grief and hopelessness. My OT helped me navigate the complex feelings and encouraged me as I completed my undergraduate degree throughout my recovery."
The experience sparked a new interest for occupational therapy. She enrolled in GW's Occupational Therapy Doctorate program and plans to become a licensed OT.
"I decided I wanted to work to provide a safe space for survivors of traumatic events," Koroma says. "I want to become a practitioner who changes lives. My dream in life is to build and run a rehabilitation center for women who have survived traumatic injuries.
"This scholarship will allow me to further my educational pursuits," she adds. "Not only does it lessen the financial burden, but it also allows me to immerse myself in my studies in a way that I have never been able to do before. I get to focus my efforts on becoming the best clinician that I can be. I feel incredibly blessed to have been recognized in this way."