The year 2021 marks a compelling moment in the history of the George Washington University (GW), the bicentennial anniversary of the university's founding on Feb. 9, 1821. This year has offered an opportunity to reflect on 200 years of phenomenal growth from humble origins (starting with just 20 students and six faculty members) to a comprehensive, global research university in the heart of our nation's capital. That contemplation on GW's past has also presented the chance to imagine the remarkable achievements yet to come as we enter our third century. Below are just a few of the significant milestones the School of Medicine and Health Sciences (SMHS) has passed during 197 of the years since GW first opened its doors and, consequently, the minds of many generations. 
1824: GW SMHS, founded as the National Medical College, becomes the 11th medical school in the United States. Early tuition: $5 to be enrolled, $10 per course, $30 examination fee, and $5 diploma fee. 
1844: The GW Infirmary began operation as the first general hospital in the nation's capital. The medical department basically gained a teaching hospital.
GW doctors played a role in the Civil War. Alexander Y. P. Garnett, MD, who had been a professor of anatomy since 1844, became Jefferson Davis's personal physician in Richmond, Virginia. Abraham Lincoln received medical treatment from Robert King Stone, MD, a former dean of the medical faculty (1853) and faculty member at GW.
During the Civil War, the government took the medical infirmary and the College Hill property. When fire destroyed the infirmary in 1861, the College Hill building became a hospital and, with 884 beds, served as one of the four major military hospitals throughout the war.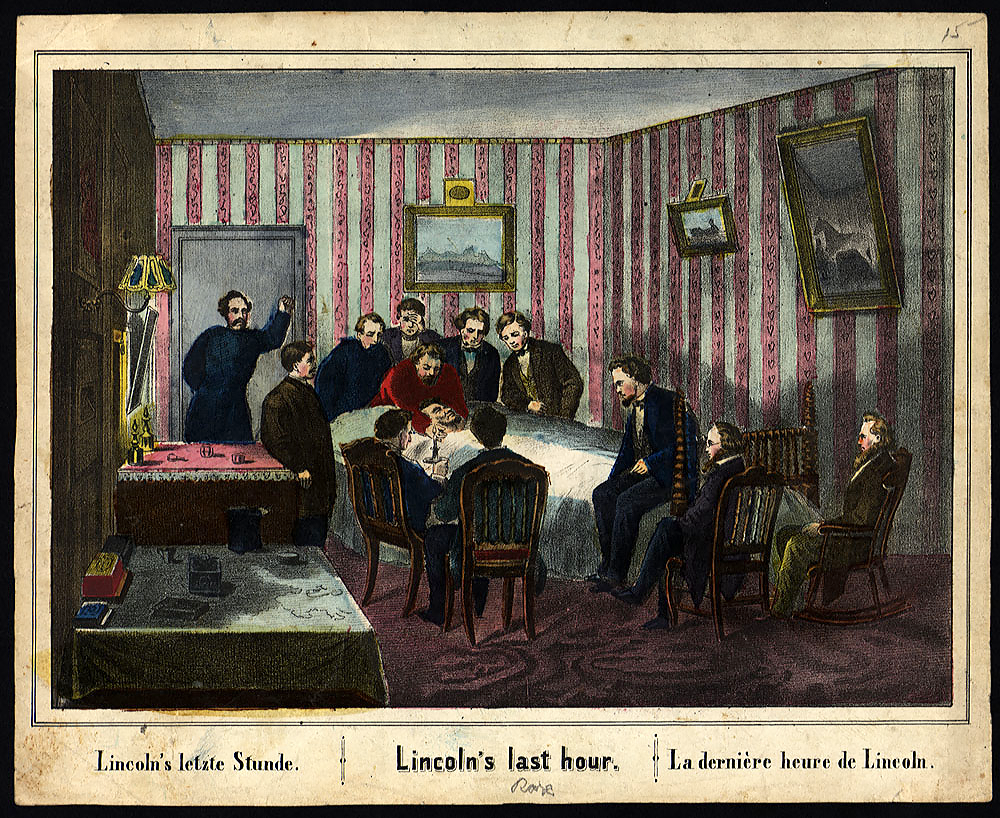 April 12, 1865: Albert Freeman Africanus King, MD 1861, who would go on to become professor and chair of obstetrics and serve as dean of the National Medical College (what would become Columbian Medical School) from 1879 to 1894, climbs from his seat just below the president's box to join in the effort to revive the president. Stone is summoned to Lincoln's deathbed. A National Medical College professor of surgery and anatomy and another former dean, John F. May, MD, attended the deathbed of Abraham Lincoln. May was later called to identify the body of John Wilkes Booth.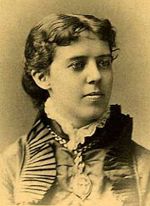 1884: Four women — Ellen W. Cathcart, Sarah A. Schull, Alice J. White, and Clara Bliss Hinds — are the first to successfully petition for admission to the National Medical College. In 1887, Clara Bliss Hinds becomes the first woman to earn a medical degree from what would become George Washington University. By 2020, 58% of GW MD students were women.
1892: Seo "Phillip" Jaisohn, MD 1892, becomes the first Korean American graduate of National Medical College.
1893: Walter Reed, MD, joins the faculty as a professor of bacteriology.
1898: The Preparatory School on H street is remodeled to become the new hospital.
1903: National Medical College becomes Columbian Medical School.
1928: The Department of Medicine becomes the School of Medicine, the School of Nursing, and the University Hospital.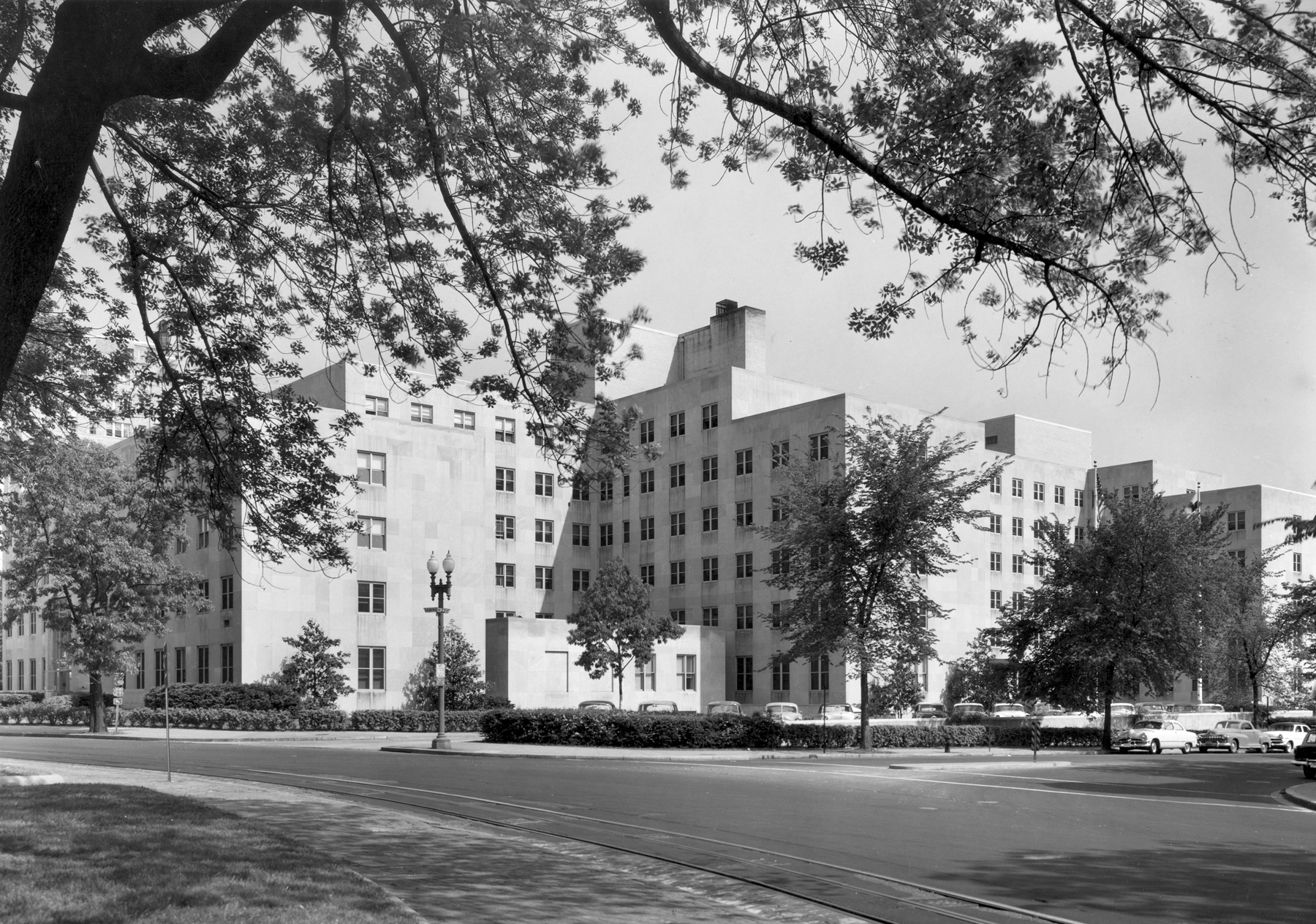 1948: GW Hospital opens at the corner of Pennsylvania Ave and 23rd Street.
1955: Julius Axelrod, PhD '55, receives his Doctor of Philosophy in pharmacology. In 1970, he earns the Nobel Prize in Medicine. In 1971, he receives an Honorary Doctor of Laws from GW. In 1974, Axelrod becomes a professorial lecturer in pharmacology at GW.
1955: Vincent deVigneaud, PhD, receives the Nobel Prize in Chemistry for his research on biochemically important sulphur compounds and the first synthesis of a polypeptide hormone, much of which was conducted at GW during his time as a professor of biochemistry in the medical school from 1932–38. 
1959: James Edwin Jackson, MD '59, MPH, becomes the first Black student to earn his medical degree from GW. Jackson would go on to become a nationally renowned OB-GYN.
1968: GW SMHS and Children's National Hospital (Children's National) establish a clinical partnership basing the school's Department of Pediatrics at Children's National and providing joint appointments to the pediatrics faculty members. Since then, SMHS students have rotated through a pediatric hospital rather than a Department of Pediatrics.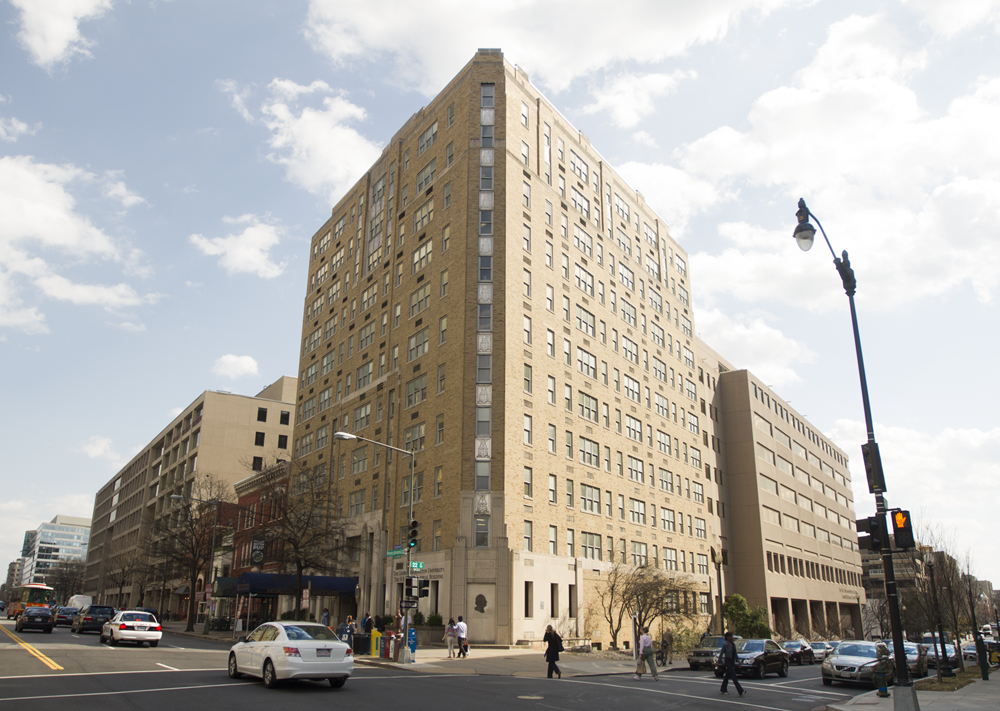 1969: H.B. Burns Memorial Building, home to the GW Medical Faculty Associates, is renovated to serve as clinical space. The building at 2150 Pennsylvania Ave. was listed on the District of Columbia Inventory of Historic Sites and the National Register of Historic Places in 2010.
1972: The Walter G. Ross Hall is opened on 23rd and Eye streets.
1972: GW launches the Physician Assistant Program under the leadership of Thomas E. Piemme, MD.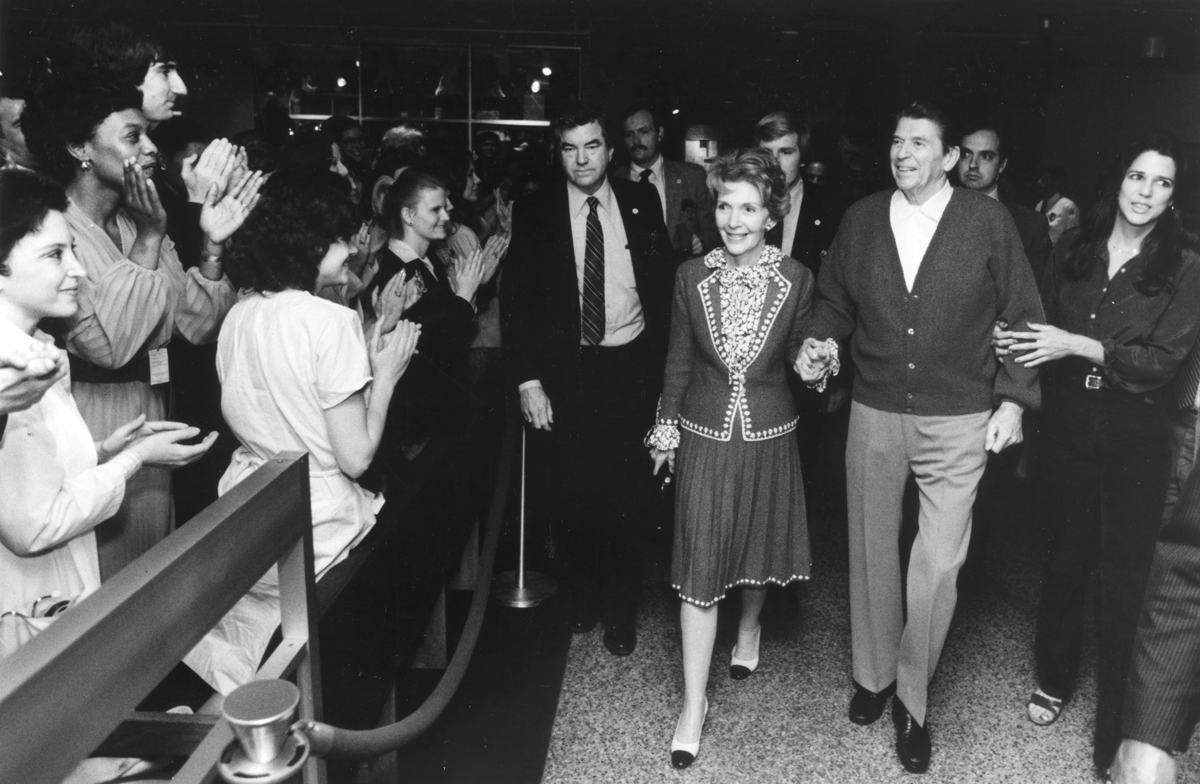 1981: The attempted assassination of Ronald Reagan puts GW Hospital in the spotlight as it successfully treats the wounded president. Joseph Giordano, MD, RESD '73, former chair of the Department of Surgery and Lewis B. Saltz Professor of Surgery, who headed GW Hospital's trauma team in 1981, was among the first doctors to treat the president. Benjamin Aaron, MD, now emeritus professor of surgery, was the lead surgeon during the two-hour emergency operation. Sol Edelstein, MD, professor of emergency medicine and anesthesiology; Samuel Spagnola, MD, professor of medicine; and Jack Zimmerman, MD '64, emeritus professor of anesthesiology, all attended to the president during his first night following surgery.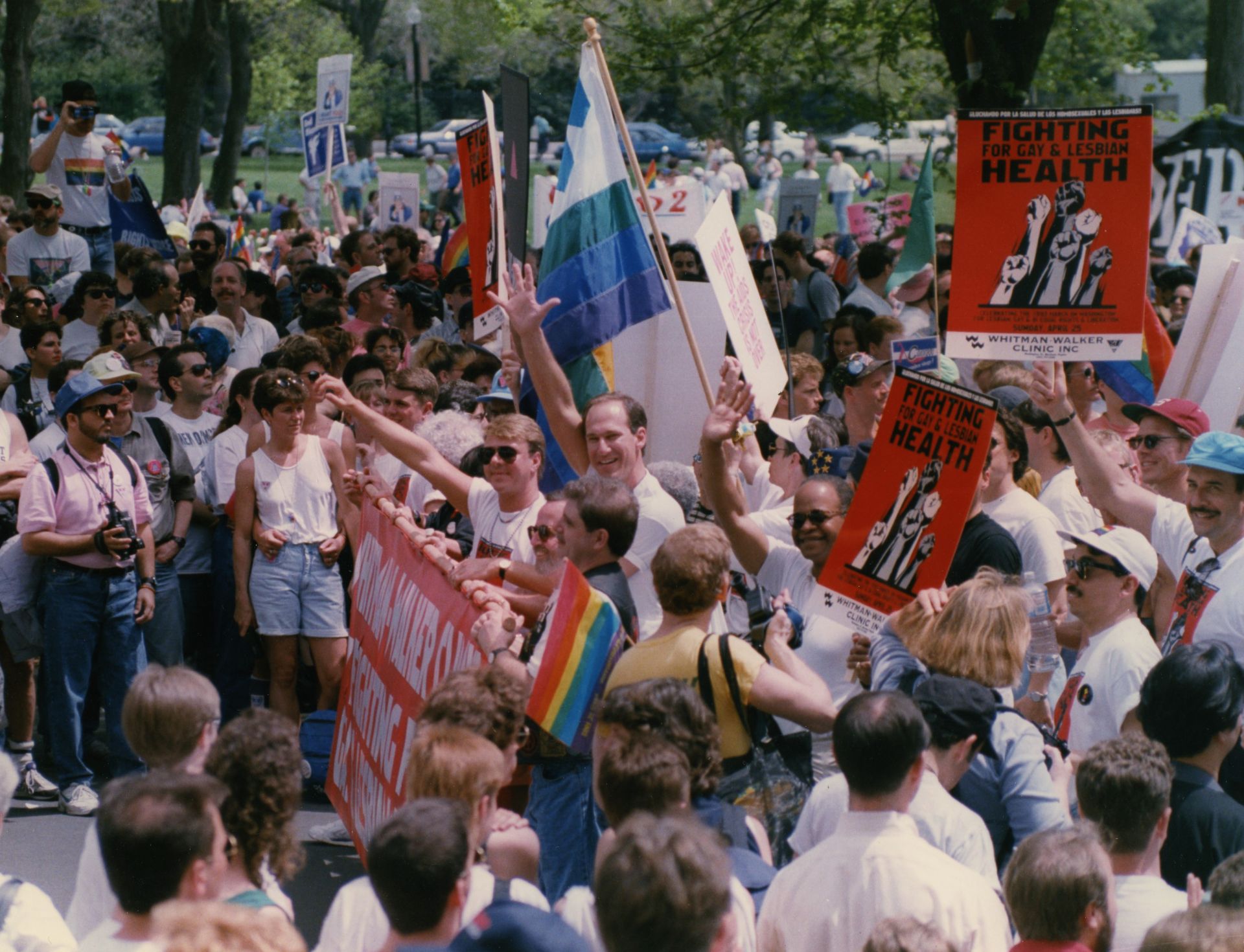 1981: Gary Simon, MD, PhD, Walter G. Ross Professor of Medicine and director of the Division of Infectious Diseases at GW SMHS, identifies the first case of AIDS in the District of Columbia.
1997: Originally part of SMHS, the GW School of Public Health and Health Services is established.
1997: GW and Universal Health Services Inc. (UHS), a King of Prussia, PA-based health care management company, form a partnership — The District Hospital Partners, LP. Under the agreement, UHS owns 80% of GW Hospital and the university maintains a 20% stake.  
1999: GW SMHS launches the Office of International Medical Programs (IMP), charged with cultivating global partnerships to create transformational mutual exchange in medical education, training, and research. IMP has developed, coordinated, and completed more than 150 projects in over 50 countries, touching the lives of more than 12,000 health care professionals, students, and patients around the globe.
2001: Vice President Dick Cheney receives a balloon angioplasty at GW Hospital. In June, he returns to GW to receive a cardioverter-defibrillator. In 2010, he returns to GW Hospital following his fifth heart attack.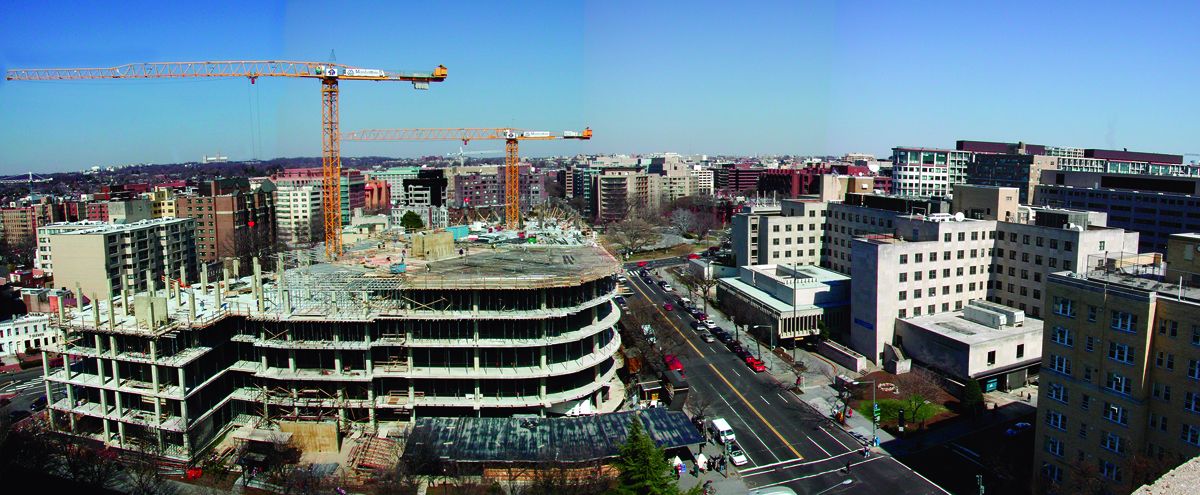 2002: GW opens the new GW Hospital, the city's first new hospital in more than 30 years, across 23rd Street from the previous facility. 
2011: GW appoints Jeffrey S. Akman, MD '81, RESD '85, to be vice president for health affairs and dean of SMHS, making him the first openly gay man to hold the positions. In 2015, Akman was named to the Presidential Advisory Council on AIDS.
2010: The School of Nursing is created, but GW has taught nursing students for more than 100 years. 
2010: Alan Greenberg, MD '82, MPH, professor and chair of the Department of Epidemiology and Biostatistics at Milken Institute School of Public Health at GW, and Gary Simon, MD, PhD, Walter G. Ross Professor of Medicine and director of the Division of Infectious Diseases at GW SMHS, receives a five-year starter grant from the National Institutes of Health to become a Developmental Center for AIDS Research (CFAR). Five years later, in 2015, the center receives full accreditation and becomes the DC CFAR. In 2020, the center's accreditation is renewed.
2010: GW SMHS and Children's National receive a five-year, $20 million Clinical and Translational Science Award from the National Institutes of Health, one of only 60 such awards nationwide, to accelerate basic laboratory research discoveries into clinical practice. The award established the establish the Clinical and Translational Science Institute at Children's National, which continues to be a CTSA-funded institute.
2013: Dean Akman establishes the Office of Diversity and Inclusion at SMHS to attract and support talented students, faculty, and staff inclusive of those who are traditionally underrepresented in medicine and to foster a culture and climate that appreciates the added value of diversity.
2011: Nobel Prize winner Ferid Murad, MD, PhD, joins GW SMHS as a university professor in the Department of Biochemistry and Molecular Medicine.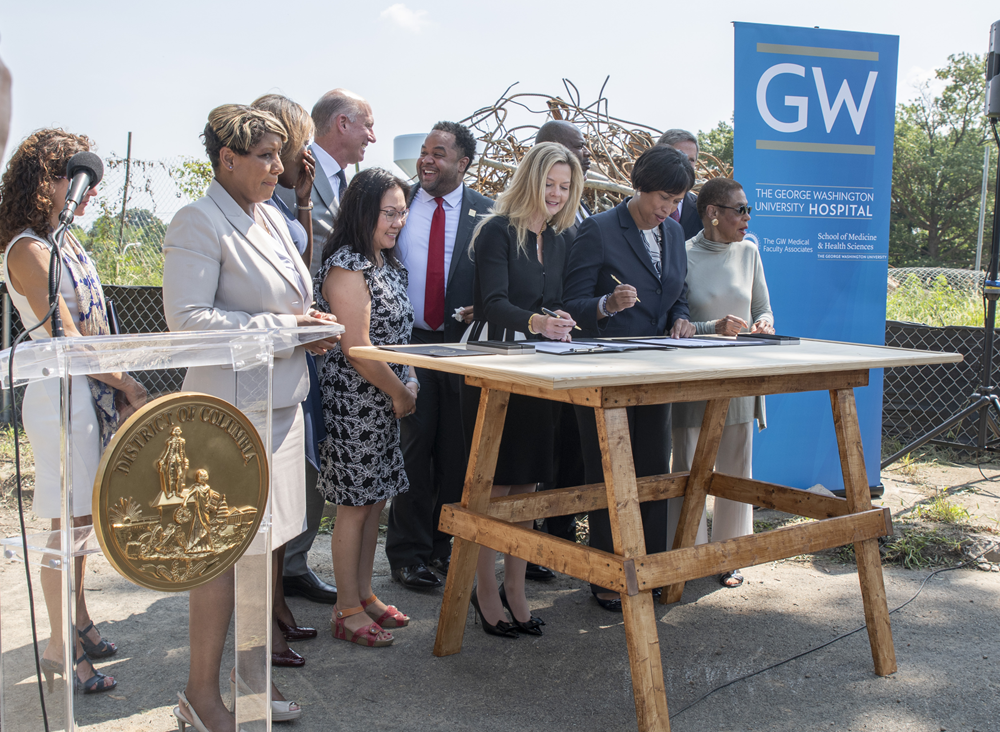 2018: GW Hospital is selected by the District of Columbia to oversee the construction and opening of a new hospital and health complex in southeast Washington, D.C., on the campus of St. Elizabeth's East. Upon its completion, estimated for 2023, GW will be home to the two newest hospitals in the city.
2019: SMHS launches the Governor's Health Sciences Academy at T.C. Williams High School, a pipeline program designed to help prepare high school students for targeted careers, raising student aspirations, attracting more students to postsecondary education in preparation for technical careers, and meeting the workforce needs of existing business and industry.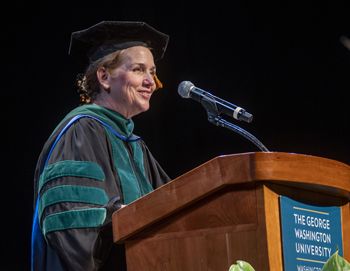 2020: GW appoints Barbara L. Bass, MD, RESD '86, vice president for health affairs and dean of GW SMHS and CEO of The GW Medical Faculty Associates, making her the first person to hold all three positions and the first female vice president and dean.
2021: GW SMHS is chosen as one of the phase III clinical trial sites to test the Moderna mRNA-1273 COVID-19 vaccine.
2021: Health and Human Services (HHS) Secretary Alex Azar, U.S. Surgeon General Jerome Adams, and D.C. Mayor Muriel Bowser (D) join GW clinical enterprise leadership and five members of the GW health care workforce to receive some of the first vaccinations as part of the official kickoff of the federal government's COVID-19 vaccination initiative, Dec. 14, 2020.