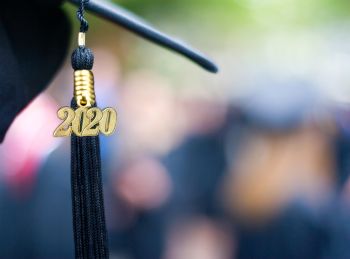 Be innovative. Be collaborative. Be just. That was the charge to students during the 2020 graduation ceremony for health sciences programs at the George Washington University (GW) School of Medicine and Health Sciences (SMHS).
There were 650 students who earned degrees in the first-ever virtual graduation event. Throughout the pre-recorded event, graduates were reminded of the hard work and dedication it took to get them to that moment, and of the opportunities and challenges ahead as they enter the health care workforce during such an unprecedented time. 
In her charge to the graduates, Karen Wright, PhD, PA-C, assistant dean of student life and academic support for health sciences and director of the Physician Assistant Program at SMHS, reflected on some of the issues in the U.S. health care system, including lack of access to care, escalating health costs, and capacity shortages. 
"Class of 2020 … you have gained the necessary education and professional development here at GW to address inefficiencies and inequities in our health care system," Wright said. "We need to have 20/20 vision in order to operate with clear vision to address our current problems and we must be visionary to address problems we anticipate in the future."
The ceremony also included a message from Barbara Bass, MD, RESD '86, vice president for health affairs, dean of SMHS, and CEO of The GW Medical Faculty Associates.
"Today is a reflection of your hard work, many hours of study, your spirit of dedication, your commitment and passion to help people live longer, healthier, and happier lives," Bass said. "While the day does not look like graduations of the past, and we cannot gather together in Lisner Auditorium with our friends and loved ones, it is still a very special day, one to be celebrated."
"This family is stronger and more dynamic today because of the addition of your talents, passion, and intellectual capabilities," Reamer Bushardt, PharmD, PA-C, DFAAPA, senior associate dean for health sciences at SMHS, said in his remarks to the graduates. He also advised them to be innovative and collaborative.  
"I encourage you to be an agent of positive change in your community," he added, "despite all that's happening around us now. Choose the path of leadership and lead through your character … embrace courage, integrity, selflessness, empathy, collaboration, and reflection." 
Following those remarks, awards were presented to graduates during the ceremony.
The Ozgur Ekmekci Interprofessional Leadership Awards, named for the former interim chair and associate professor of clinical research and leadership, and recognizing graduating health sciences students who demonstrate interprofessional scholarship, were presented to online program recipient Lauren Wolf, MSHS '20, and Stephanie Johnson, DPT '20, as the campus program honoree.
In addition, the 2020 Outstanding Health Sciences Undergraduate Award was presented to Chloe Andrews, BA '20.
Wrapping up the awards presentations was the winner of the Health Sciences Outstanding Graduate Award, Lisa Frisch, who earned her MSHS in the molecular diagnostic sciences program with a 4.0 GPA.