Addressing the health of the justice system's at-risk population to improve the public's health at large
In 1991, as Newton Kendig, MD, was on the cusp of completing an infectious disease fellowship at Johns Hopkins University, his next step was opaque — until a lawsuit led him down the path of correctional medicine and, eventually, criminal justice health.
"Maryland was being sued by HIV-positive inmates for better health care, and the HIV-negative inmates were demanding segregation based on HIV status," recalls Kendig, now clinical professor of medicine at the George Washington University (GW) School of Medicine and Health Sciences (SMHS) and faculty member in GW's Center for Healthcare Innovation and Policy Research.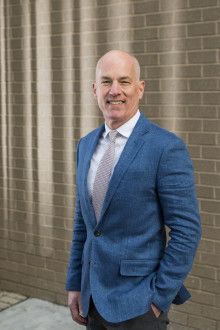 Kendig was intrigued by the possibilities of working for the State; the prison system lacked adequate HIV/AIDS treatment protocols, and, as medical director, he could have an indelible influence on the care of an at-risk patient population. "It was all by chance that I landed in correctional medicine," Kendig says. "It's not something most of us are introduced to in medical school. It's not something that most of us have experience with because we've not been in jails and prisons." Kendig loved it, and he helped resolve the lawsuits. Now, after decades of experience — he retired in 2015 as assistant surgeon general of the U.S. Public Health Service and medical director of the Federal Bureau of Prisons (FBOP) — he's bringing that passion for the field to academia with his Criminal Justice Health Initiative.
Incarceration, Health, and the Community
Kendig has one mantra guiding his goals: Correctional health is public health. "Not everybody appreciates the fact that nearly all patients who are incarcerated return to their community," he says. "All the things we can do in correctional health to both stabilize the patient during the incarceration and have a good re-entry plan for them to link to services in the community, that is only going to help public health in general — and it's going to save the taxpayer money if [the patient is] not going in and out of jail all the time, which is expensive." It starts with intake, when inmates undergo comprehensive health screenings. They tend to present with chronic infectious diseases (HIV/AIDS, Hepatitis C, tuberculosis), chronic addiction, and mental illnesses, explains Kendig. For some, particularly those in longer-term facilities such as prison, incarceration is also the first time they're diagnosed and put on consistent medication regimens. "I would say the most common scenario is that patients, sometimes for maybe the first time in their lives, concentrate on their health," Kendig says. "They have time on their hands, so a lot of inmates start caring about themselves and exercising and not smoking; they're focusing on being healthier." It makes for positive interactions, he adds, though there can be a minority of patients who are more challenging, such as those with personality disorders. Jail, because it's designed for short-term stays, is less stabilizing than prison. "You're on all these medicines, and you land in jail, and maybe nobody knows what medicines you're on and you're there for three or four days and then you go back — it can be more disruptive," notes Kendig. Balancing the two — providing the best possible health care to those currently incarcerated and ensuring that all patients have access to care upon release — is key to what Kendig terms criminal justice health. "Criminal justice health goes beyond correctional health, which is the health care in jails and prisons; it's also justice-involved patients who are in home detention, who are on parole, who are on probation, who are in halfway houses," he explains. There are 2 million people incarcerated and an additional 6 million in alternatives to incarceration, he adds. "Many people have a friend or family member who is justice-involved. If you don't, they're in your community. If they're out of control and their mental health isn't being stabilized, if their addiction isn't being addressed, if their infections aren't being addressed, that impacts everybody in the whole community."
Criminal Justice Health Initiative
To both improve the system and broaden the scope of change, Kendig is spearheading a new initiative at GW designed to help advance the university's clinical public health outreach efforts. SMHS, in particular, has incorporated clinical public health into its curriculum; the goal is to create clinicians who not only provide care but also tackle community health issues. Although the initiative is at an early stage, Kendig has already implemented a graduate certificate program in correctional health administration (see sidebar) and provided free continuing medical education to clinicians in correctional medicine. He is also planning to collaborate with other university schools, such as the School of Nursing, GW Law, and the Milken Institute School of Public Health, to advance public policy. "We really feel that the university can be a good place to convene stakeholders to engage on issues of importance to justice-involved patients," he says. "We hope to bring correctional leadership, academicians, advocacy groups, and even formerly justice-involved patients to the table on public policy issues." Kendig also hopes to provide direct patient care experiences for students, with perhaps a nudge toward correctional medicine. The draw, he says, is twofold. First, health care professionals cannot escape justice-involved patients. "They may not ever want to work inside a jail or a prison, but whether they're working in an emergency room, an outpatient clinic, [or elsewhere], justice involvement transcends every demographic," Kendig explains. "It's every race, every gender, every age." Second, justice-involved patients tend to have complicated co-morbidities, so "whether you're treating them in the community or in the jail or prison, it's a wonderful opportunity to learn clinical skills and engage with this patient population." Kendig cites numerous student groups that found rotations at FBOP medical centers to be the most challenging, and therefore their favorite. And knowing the common popular cultural stereotypes — "Oz," "Orange Is the New Black," "Prison Break" — Kendig says corrections isn't as dangerous as Hollywood would suggest. "You really have to demystify misperceptions, as corrections is a relatively safe environment for health care professionals," he explains. "Furthermore, providing GW medical students and residents more opportunities to care for justice-involved patients will not only enhance their clinical skills but also advance the public health of our communities."