Educational Series Sets Faculty Up for Success
Health is commonly considered a fundamental human right. So is freedom from inequities due to differential access to quality care. That's why health equity has been a key element of the George Washington University (GW) School of Medicine and Health Sciences' (SMHS) strategic goals for many years. Now, a five-month series aims to further health equity education among educators and health care providers while also fostering a shared understanding of the issues.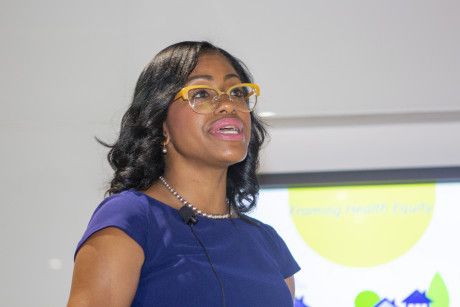 "We want to set people up for success and give them the tools to facilitate discussions on how we talk about race, power, and privilege in the classroom in a way that has both educators and students feeling safe and feeling included in the discussion," says Maranda Ward, EdD, MPH, assistant professor of clinical research and leadership at SMHS, the creative mind behind the series.
The Department of Clinical Research and Leadership is sponsoring the five-month series, which began in September and will continue through January 2020.
The series, Ward says, will help attendees understand the importance of teaching about the social, environmental, and structural factors that threaten health equity; create inclusive policies and practices to address the challenges of health equity; and seek out equitable and sustainable institutional and community partnerships to advance health equity.
The idea for the series, Ward says, stemmed from a desire in the health sciences division of SMHS to create recommendations for faculty on addressing health equity in the classroom.
"It's not enough to create recommendations for the curriculum if the faculty and staff don't feel comfortable and confident with these topics," she says. "We want to make sure faculty are empowered to be proactive in these discussions."
Ward says the series is open to the GW community and the public, and adds that the series is streamed through WebEx; sessions are archived online.
Topics addressed include health disparities within and across important U.S. populations; root causes of health disparities in teaching and research; and how to talk about race, power, and privilege in the classroom.
"We want to make sure faculty are empowered
to be proactive in these discussions."
"I created an external review committee of professionals and they weighed in on priority areas," Ward says about how the topics were chosen. "We knew that when we're talking about disparities, we need to talk about key populations to ensure people have the data around disproportionate health outcomes in U.S. populations. We also knew it would be important to show faculty and staff how to facilitate these discussions. You can have all the data you want, but you have to be comfortable talking about these issues.
Speakers for the series include Ward; Abby Charles, MPH, senior program manager at the Institute for Public Health Innovation; Karey M. Sutton, PhD, director of the American Association of Medical Colleges Health Equity Research Workforce; and Howard Straker, EdD, MPH, PA-C, director of the PA/MPH program and assistant professor of physician assistant studies at SMHS.
Ward adds that the January session will be longer in order to have more hands-on activities and discussions, ensuring attendees are able to take what they learned and the resources offered and put them into practice.
That session will also include "voice equity," Ward says, through a panel discussion featuring community members who will talk about the work they are conducting related to health equity and projects happening on the ground where they live.
"Community partnerships are extremely important when it comes to health equity," she says. "There are a lot of ways to talk about academic community partnerships. You can't do this alone."
Her goal for the series is for SMHS faculty to have a "renewed sense of urgency around understanding why this is important and having the agency and capacity to act, and enact change."