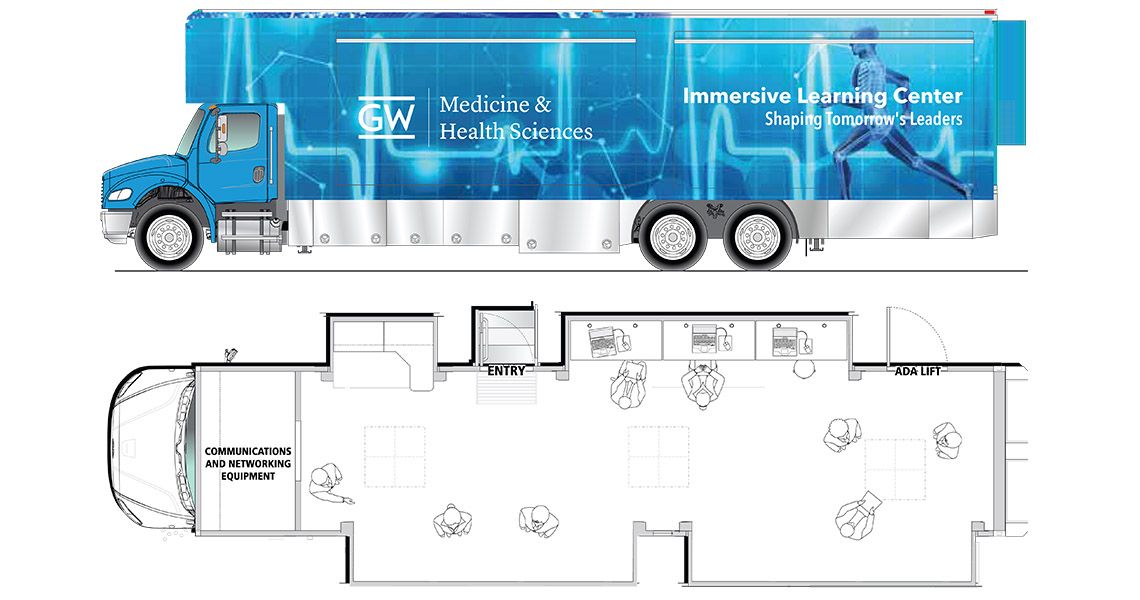 The George Washington University (GW) School of Medicine and Health Sciences (SMHS) expanded the reach of STEM-H learning opportunities to more Northern Virginia high school students this year through the Community Medi-Corps Program and its new mobile Immersive Learning Center.
Supported by a grant from the GO Virginia (Virginia Growth and Opportunity) program, the Commonwealth's workforce initiative, the 45-foot-long interactive immersive classroom provides students with cutting-edge technology, simulation, and immersive mixed-reality, AI, and augmented reality learning experiences.
The Immersive Learning Center — led by project principal investigator Teri Capshaw, MBA, adjunct instructor of clinical research and leadership, and co-investigator Linda Zanin, EdD '96, MA '92, adjunct assistant professor of biomedical laboratory sciences — received high praise for its unique approach, earning a silver E-Learning Award in the Blended Learning Experience category from the International E-Learning Association.
The awards recognize the best uses of technology to improve learning and job performance within companies or through individual professional development. The 2022 award winners were announced at the International Conference on Interactive Collaborative Learning awards ceremony
The Immersive Learning Center is part of the 2020 agreement between GW and four public school systems in Northern Virginia to address the region's need for high-demand health care professionals, promote career pathways into health and STEM-focused fields, and improve the diversity of the regional health care workforce.
The center incorporates the latest immersive learning technologies to support critical thinking and applied learning to maximize student learning and engagement. It features augmented and virtual reality, providing students with a unique classroom experience that brings STEM-H learning opportunities to more Northern Virginia high school students.