In April 2018, aligning with French President Emmanuel Macron's visit to Washington, D.C., a collaboration between the George Washington University (GW) and Centre National de la Recherche Scientifique (CNRS), the main multidisciplinary research organization in France, was signed. The partnership, taking form in the joint laboratory EpiDaPo — Epigenetics, Data, Politics — amplifies research at the intersection of genetics, environment, big data, and society.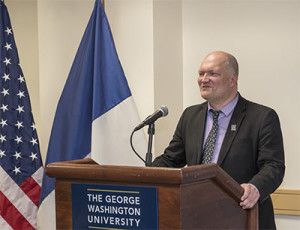 Vilain joined the SMHS faculty in 2017, bringing with him 30 years of expertise in genomic research. He is one of the world's foremost experts in the genetic determinants of sex development and sex differences.
"My research on people born with an intersex condition, with all its complex challenges, was the catalyst to broaden my horizons, collaborate with social scientists, and build a community of multidisciplinary scholars," explains Vilain, who also serves as director of the Center for Genetic Medicine Research at Children's National Health System. "In establishing EpiDaPo, we will investigate the social aspects of deciphering the human genome and epigenome."
Through its interdisciplinary approach to the challenges associated with "genomic" and "post-genomic" approaches of life, says Michel Dubois, PhD, deputy director of EpiDaPo and senior research fellow at CNRS, the goal of the lab is to bring together various academic communities, contribute to the public debate, and participate in informed decision making.
Considering the fierce debate around genomics and precision medicine and its recent attention in the news, Vilain says that "it is crucial to have an understanding of the social consequences of a scientific approach."
EpiDaPo's research activities develop at the intersection of cross-cutting themes and questions, such as: How should society think about the new interdisciplinary and epistemological, but also normative characteristics of research in genetics and epigenetics? And how can establishing a biological understanding of gender and sexual orientation be used to advance social and political goals?
Since establishing the partnership between GW and CNRS, EpiDaPo researchers have continued to engage in studies on the public circulation of epigenetics and empirical investigation of translational research. The lab has also begun developing new projects with international scientific and institutional partners, including projects in Pakistan and the Congo, which both require a multidisciplinary and global perspective.
"The move from Los Angeles to D.C. has been an opportunity to rethink some of our scientific priorities and extend our scientific network," says Dubois. "GW is located in the perfect spot for multidisciplinary research involving sociology, political science, statistics, and life science. Congress is around the corner, and so is the National Institutes of Health and the Food and Drug Administration, making the field of study very fertile and the public policy implications highly topical."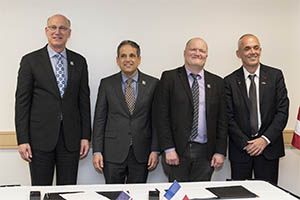 EpiDaPo also hosted its first seminar on genomics and personalized medicine, bringing together a multidisciplinary panel of experts to discuss the state of genomic research in the United States. The symposium, hosted at the Embassy of France, featured brief presentations by experts from the National Human Genome Research Institute, the University of Louisville, Dartmouth College, and GW.
"Our speakers addressed some of the scientific and social challenges related to personalized genomic medicine," Vilain says. "It was a great example of the kind of topics EpiDaPo aims to address in a multidisciplinary way."
To increase further scientific exchanges between France and the U.S., Vilain and Dubois say they have been working on establishing a "mirror" site for EpiDaPo in Paris, allowing researchers to move easily from one site to another. The new site is planned to open this summer.