GW's Physician Assistant Program Celebrated a 50-Year Tradition of Education, Research, and Compassionate Care
Two years into his career, Nathan McGwin, PA-C '13, had a moment encapsulating the highs of medical care: He correctly made a diagnosis that had puzzled all other providers.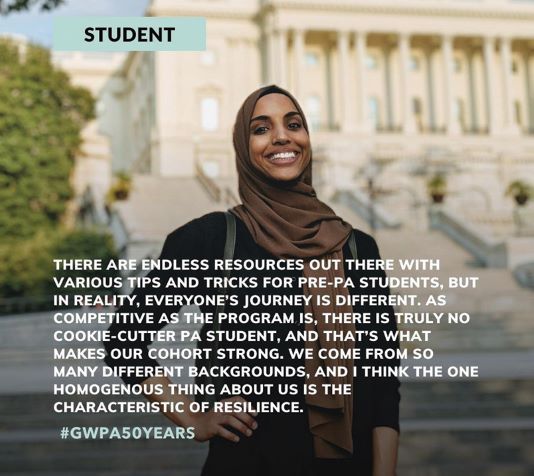 "The patient presented with persistent knee pain and had seen several doctors about it: internal medicine [physicians], multiple orthopedists, rheumatologists, all without a definitive answer," he recalls. "By taking a thorough history and really listening to the patient, I was able to obtain important details that led to the diagnosis of Crohn's disease presenting with inflammatory knee arthritis."
The patient, he says, received treatment and "improved dramatically." Not long afterward, she came back to the office, "not for a problem, but to give me a hug and thank me for listening to her and for making the diagnosis."
For alumni of the George Washington University (GW) School of Medicine and Health Sciences (SMHS) Physician Assistant (PA) program, these moments — the power of listening and deductive reasoning — are common themes, often attributed to a top-notch education.
"The building blocks of an effective, compassionate PA are ones we have always emphasized at GW: rigorous academics, dedicated service to others, and a commitment to care," says Karen Wright, PhD, director of the PA program at GW SMHS. "We often hear these stories from our current students and our alumni of how they've truly affected a patient's life – and their own – and we know that our methods and our willingness to evolve over the past 50 years are working. It's what makes us one of the best programs in the country."
To celebrate its golden anniversary, the GW PA program welcomed students, alumni, staff, and faculty to campus at the end of September for a weekend of celebratory events: social-networking activities, a panel discussion featuring former program directors and alumni, continuing medical education opportunities, an awards banquet, and a day to explore Washington, D.C.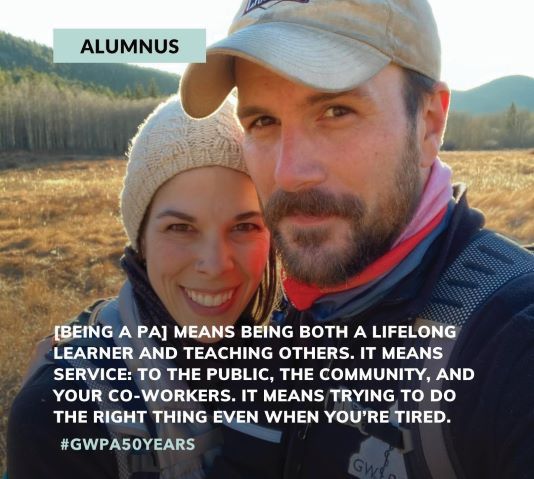 The history of PAs at GW is intertwined with the development of the PA profession and rooted in military history. Corpsmen returning from Vietnam were retrained to become emergency room technicians at GW Hospital, and 15 candidates from the U.S. Navy, plus 10 civilians, comprised the inaugural class of GW's PA program. Alumni now number more than 2,000. Since its first accreditation from the American Medical Association Council on Medical Education on Nov. 1, 1972, the program has grown to become a leader in the field and the fifth ranked program in the country.
Over the past 50 years, the program has seen significant achievements. The program's faculty and alumni, for instance, have made national and international contributions to education, research, health care delivery, and the profession. The program created the first joint program for the Master of Sciences in Health Sciences and Master of Public Health degrees in the country. Graduates and faculty have held leadership roles in the four major PA organizations as well as federal organizations. Many former faculty and alumni have gone on to lead other PA programs and health systems. In addition, the program has created innovative curricula that have transformed the conversations around social determinants of health, bias, racism, and health equity.
"We are so excited to host this event that will highlight the program's rich history, and we hope it will be an opportunity for all attendees to learn, benefit from one another's experience, and enjoy the spirit of community in our profession and at GW SMHS," Wright says.
For students such as Galina Mirzoyan, that sense of community has been critical to her education. After teetering into burnout during her didactic year, she found solace in her Health, Justice, and Society class.
"This class allowed me to reflect on my experience in health care and reinforced my desire to be not just a competent provider but an ardent patient advocate," she says. "I understood that was I not alone in this, because every time I looked around the classroom and talked to my classmates, I saw so much fire, passion, and empathy that it made me feel hopeful for the future of our health care. The GW SMHS PA program has done an incredible job of gathering people with hearts of gold, faculty and students alike."