New Chair Antonia R. Sepulveda, MD, PhD, Looks to Advance Pathology Through Innovation
To excel in today's competitive environment, the pathology department at an academic medical center must be on the cutting edge of clinical care and research, according to Antonia R. Sepulveda, MD, PhD, the new chair of the Department of Pathology at the George Washington University (GW) School of Medicine and Health Sciences (SMHS). "It must distinguish itself through innovation, which needs to be powered by a strong research program," she says.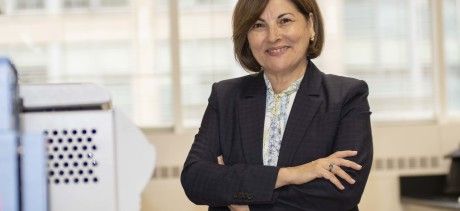 Sepulveda, who comes to GW from Columbia University Irving Medical Center in New York, where she served as vice chair for translational research and director of the Division of Gastrointestinal Pancreas and Liver Pathology in the Department of Pathology and Cell Biology, is eager to pair her experience and vision for the Department of Pathology with GW's culture of collaboration to establish pathology as a vital element of the school's mission.
"I want to promote a culture of scholarly achievements within the department," says Sepulveda, who will also serve as the Ralph E. Loewy Professor of Oncology at SMHS and as chief of pathology service and clinical laboratory director at GW Hospital. "My ultimate goal is to elevate the role of the department globally and increase its preeminence at the national level."
Sepulveda, an expert in gastrointestinal pathology and molecular diagnostic pathology of cancer, plans to use her background as a clinician-scientist to inform her approach when it comes to the direction of the department. "I believe in the synergism between clinical and research experiences," she says. "Clinical observations can inform and launch research questions, and in turn the research may bring advancement and innovation that can improve disease outcomes and the lives of patients."
Her plans for the department include bringing cutting-edge genomic and molecular diagnostic services to GW. The laboratory will offer innovative genomic testing, such as next-generation sequencing, to support personalized or precision medicine initiatives and novel cancer therapies.
She also wants to lead her team to develop a program in digital and computational pathology, which are technologies that are revolutionizing and shaping the field of pathology, she says. These and other new initiatives in pathology at GW will contribute to supporting outstanding clinical services and will fuel translational and clinical research both within the department and as collaborative transdisciplinary research.
Throughout her career, Sepulveda has made a point of mentoring young trainees and helping to foster the future of the discipline of pathology, having directed gastrointestinal pathology and surgical pathology fellowship programs at the University of Pittsburgh, the University of Pennsylvania, and Columbia University. As a leader in the field, and now the head of her own department, she wants to create an environment that showcases the many fulfilling opportunities for professionals in pathology and laboratory medicine, and to encourage medical students to explore the field of pathology.
"It's very important to me to help the next generation of pathologists find their way to a bright future in the field," Sepulveda says. "In the GW pathology department, I hope we will inspire our students and trainees to actively contribute and ensure the growth and visibility of pathology as a discipline and medical specialty."
Her own career trajectory, she explains, was influenced by working with mentors Janet Butel, PhD, a prominent molecular virologist, and Milton Finegold, MD, a national figure in the pathology of liver disease, on a project focused on liver cancer development. She says their combined mentorship, emphasizing the power of molecular studies and pathological and morphological observations in human disease, greatly influenced her decision to pursue residency training in anatomic pathology.
"It's very important to me to help the next generation of pathologists

find their way to a bright future in the field."
Mentors continued to have a role in Sepulveda's path as she did her PhD work in the laboratory of Michael Lieberman, MD, PhD, at Baylor College of Medicine, furthering her knowledge of molecular biology in the context of human disease. Her work with David Graham, MD, an internationally recognized figure in Helicobacter diseases, steered her research interest toward gastrointestinal cancers and pre-cancer lesions.
"The field of pathology and laboratory medicine offers enormous opportunities to advance our understanding of disease processes, namely leveraging molecular analysis tools, such as genomics and transcriptomics, ultimately resulting in clinically relevant diagnostic, prognostic, and predictive biomarkers," she says. "[For me,] pathology presented a fascinating opportunity to learn about biological processes and disease in a very visual, sometimes artsy way.
"The specialty of pathology and laboratory medicine is highly data driven," she continues, "with increasing use of digital platforms offering a data-rich trove available to be mined using computational tools. A number of algorithms are being developed for diagnosis and biomarkers that will significantly change the way we practice pathology over time."
The emerging field of digital and computational pathology offers enormous opportunities to apply the latest advances in data science and artificial intelligence.
She maintains that while pathology is a specialty within medicine, it is itself very subspecialized and can provide for many different interests, including tissue-based pathology diagnostics, clinical laboratory pathology, direct patient care by specialists in apheresis and transfusion medicine, and basic translational and clinical research. And, Sepulveda adds, this is a vibrant medical specialty in constant evolution.