The George Washington University (GW) School of Medicine and Health Sciences (SMHS) was selected by the Commonwealth of Virginia Department of Education (DOE) as a recipient of the 2019 Creating Excellence Business & Industry Partnership Award for Region 4.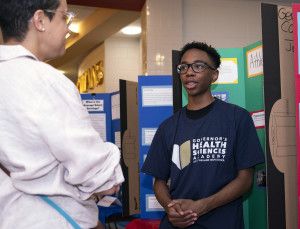 The awards are presented annually to recognize exemplary programs and partnerships that promote excellence in career and technical education. SMHS was nominated for this award by the Alexandria City Public Schools for their partnership on the Health Sciences Academy at T.C. Williams High School, which was endorsed by the Commonwealth of Virginia as a Governor's Academy.
The program prepares students for targeted careers, raising student aspirations, attracting more students to postsecondary education in preparation for technical careers, and meeting the workforce needs of existing business and industry.