Lewis "Lew" Kuller, MD '59, DrPH, recently passed away at age 88. Lewis was a Public Health Professor Emeritus at the University of Pittsburgh School of Public Health, where he served as chair of epidemiology for more than three decades. A prolific researcher, Lewis's work centered on cardiovascular epidemiology, and was considered an early voice in preventive cardiology.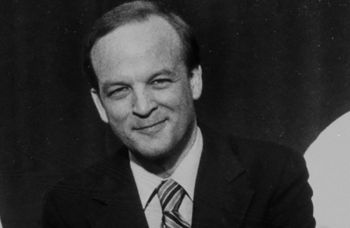 Dennis O'Leary, MD, passed away at age 85. The former dean for clinical affairs and professor of medicine at George Washington University (GW) School of Medicine and Health Sciences (SMHS), and president emeritus of The Joint Commission on Accreditation of Healthcare Organizations, became an unexpected public figure when he served as the GW Hospital spokesman following the March 30, 1981 assassination attempt on then President Ronald Reagan, updating the media about the condition of the president, as well as White House Press Secretary James Brady, Secret Service agent Timothy McCarthy, and Washington police officer Thomas Delahanty. O'Leary, a board-certified internist and hematologist, recently published a memoir of his experience during such a pivotal event in American history (see page X). He is survived by Margaret Wiedman O'Leary, MD '80, RESD '82, their two children; three children from his first marriage; and nine grandchildren.
Jan Marc Orenstein, MD, PhD, Emeritus Professor of Pathology at GW SMHS, passed away at age 79. Orenstein served for 32 years as a faculty member in the GW SMHS Department of Pathology, joining the department as assistant professor in 1977. He earned tenure and was promoted to associate professor in 1982, and to full professor in 1989. During his tenure at GW, Orenstein served as director of the autopsy service at GW Hospital and director of the electron microscopy laboratory in the Department of Pathology. In 1996, Orenstein received the GW Distinguished Researcher Award.
He published more than 200 peer-reviewed journal articles, the vast majority of which have dealt with the ultra-structural morphology and pathogenesis of HIV/AIDS, as well as Kawasaki's disease, ultrastructure of cancer stroma, and myofibroblasts.
Orenstein is survived by his wife, Karen, their children, Joshua Orenstein (Jackie Greene) and Abigail Orenstein, MD/MPH '98, and four grandchildren.
Thomas Piemme, MD, Professor Emeritus of Health Care Sciences at GW SMHS, and founder of the school's Physician Assistant (PA) program, passed away at age 88. Piemme was nationally acclaimed as a pioneer in medical informatics and as a founding leader of the professional discipline of Physician Assistants in health care. During his nearly 30 years at GW, Piemme founded the GW SMHS Physician Assistant Program, served as a professor of medicine, director of the Division of General Medicine, associate dean for continuing medical education, and was the chair of the Department of Computer Medicine.
In the mid-1970s, Piemme helped create a new academic discipline establishing the Symposium on Computer Applications in Medical Care, which later grew to become the American Medical Informatics Association. He also was a pioneer in the PA profession, earning a Lifetime Achievement Award from the Physician Assistant Education Association. He was elected the second president of the Association of Physician Assistant Programs, succeeding it first president, Alfred M. Sadler, MD. The two would continue to work together on national initiatives that ultimately shaped the PA profession we know today.
Beatrice Rose, MD '46, MPH, a trailblazer for women in medicine, passed away at age 105. In 1943, after working in working for the federal government, she entered medical school at GW and was one of only two women in the MD Class of 1946. Rose served as professor at the Department of Public Health and Preventative Medicine at Oregon Health and Science University, and was the first woman appointed to the Oregon Health Authority. She served as president of the Oregon Heart Association, and received the 1972 Doctor-Citizen of the Year award from Oregon Medical Association.
Stanley J. Talpers, MD, associate clinical professor emeritus of medicine, at GW SMHS, passed away at age 96. For many years, Talpers practiced medicine in Washington, D.C., with notable GW alumni and faculty members Orville Donnelly, MS '51, MD '57, RESD '59; Harold Sadin, a former associate clinical professor of medicine; Stuart Fidler, MD, former clinical professor of medicine; Robert Wilkinson, MD, MACP, professor emeritus of clinical medicine; and Paul Schlein, MD, RESD '63, professor emeritus of medicine.
Since the early 1990s, every GW third-year medical student has taken the course developed by Talpers, Observed History and Physical Examination. The two-hour assessment of what Talpers calls the "skill of touch," required for an efficient physical exam.
John D. Trimbath, PA '79, passed away at age 71. For more than 30 years, Trimbath championed the cause of PAs, both as a role-model clinician and through leadership positions with the Ohio Association of Physician Assistants (OAPA) and the American Academy of Physician Assistants thanks to an unwavering commitment to his profession.
Upon his return from service in the U.S. Air Force during the Vietnam War, Trimbath came to GW SMHS as a PA student. Following his graduation in 1979, he embarked upon 40-plus-year career serving as a surgical PA for about 15 years before switching to emergency medicine in 1995. In 2004, he became the first non-physician to receive the Distinguished Alumni Award from GW SMHS.
1940s
W. Reed Brockbank, MD '48
Robert H. Hines, MD '49
William Kurstin, MD '43, BS '41
James E. Loggins, MD '46
Beatrice Kartus Rose, MD '46, BA '44, AA '43
Melvin S. Rosenthal, BA '49, MD '52
Paul Spray, MD '44
Robert O. Warthen, MD '44
1950s
Charles M. Aaronson, MD '55, BA '52
Barrett C. Andersen, MD '57, RESD '60
Carl E. Balli, MD '53, BA '50
Robert G. Brewer, MD '52
George J. Cohen, MD '50
Shelton P. Dawson, MD '55, BA '52
John M. Keshishian, MD '50, RESD '53
Jay D. Lasher, MD '51
Frank J. Laudonio, MD '59
Robert J. Levine, MD '58
Angelo G. Lurus, MD '57
Frederick K. McCune, MD '55
Howard G. McQuarrie, MD '55, RESD '59
Thomas M. Mould, MD '59, RESD '60
Sterling B. Mutz, MD '56
Robert L. Reis, MD '58
Thomas A. Sperring, MD '56
Harold G. Sutton Jr., MD '55
David D. Snyder, MD '56
Fred K. Viren, MD '55
David Colwell Wherry, MD '52, BA '48
Melvin C. Williams, MD '59
1960s
Arthur J. Anderson, MD '61
William S. Anderson, MD '64
Donald P. Bernstein, MD '68, RESD '69
Frederick C. Blades, MD '69, RESD '77
Delano W. Bolter, MD '61
Donald O. Castell, MD '60, BA '58
C. Frank Chambers, MD '61
Gerald L. Ellison, MD '65, BS '60
Kenneth J. Forman, MD '69
Harold M. Hagen, MD '60, RESD '64
James C. Harris, MD '66
Cecil Bryant Jacobson, MD '64
Sheldon Nassberg, MD '67, RESD '74
Lynn B. Rowe, MD '61
Norman M. Sawyer, MD '60
David G. Van Sickle, MD '66
Andrew A. Wallman, MD '61, BS
1970s
Brian Lee Charlton, MD '71
Paul L. Chandeysson, MD '76, RESD '82
Ronald Joseph Crisp, MD '77
Norman H. Fitz-Henley, MD '71
Daniel Galos Fuchs, MD '77
Lydia Kowalewski Kovacs, BS '75
Robyn G. Lacher-Cassidy, BS '76
Marion Franklin "Bud" Mosley, BS '77
Richard Lee Randazzo, MD '80, MS '75
Richard Mason Rytting, MD '70
Gerald Gene Spraggins, BS '77
William R. Van Wambeke, BS '76
Curtis William Vickers, MD '77
1980s
Jameela M. Arhad, MD '81
Joyce A. Broadus-Lewis, MD '81
Tracey W. Doxzon, BS '81
Peter John Gianas, MD '82
Jeffrey Allen Glick, MD '88, RESD '89, BS '83
Richard Bernard Jackson, MD '89
Linda Reneé Miller, MD '84
Patricia L. Murray-Zarzour, MD '81, RESD '85
Henry Gerald Russell, BS '86
Nancy C. Sheehan Shadler, MD '81
Jonathan E. Thornber, BS '89
1990s
Richard A. Brock, BS '91
Daryl Stephen Collette, BS '96
Dominick Warren Heyl, BS '93
Ellen M. McManus, MD '92
Rosemary Bethany Otis, BS '96
Mark A. Poole, BS '97
Michael Peter Terp, BS '99
2000s
Phillip C. Flanagan, CERT '01
2010s
Erin J. Klepeis, MS '14
Caitlin E. Nussbaum, MD '11
2020s
Christine F. Archuleta, MD '21