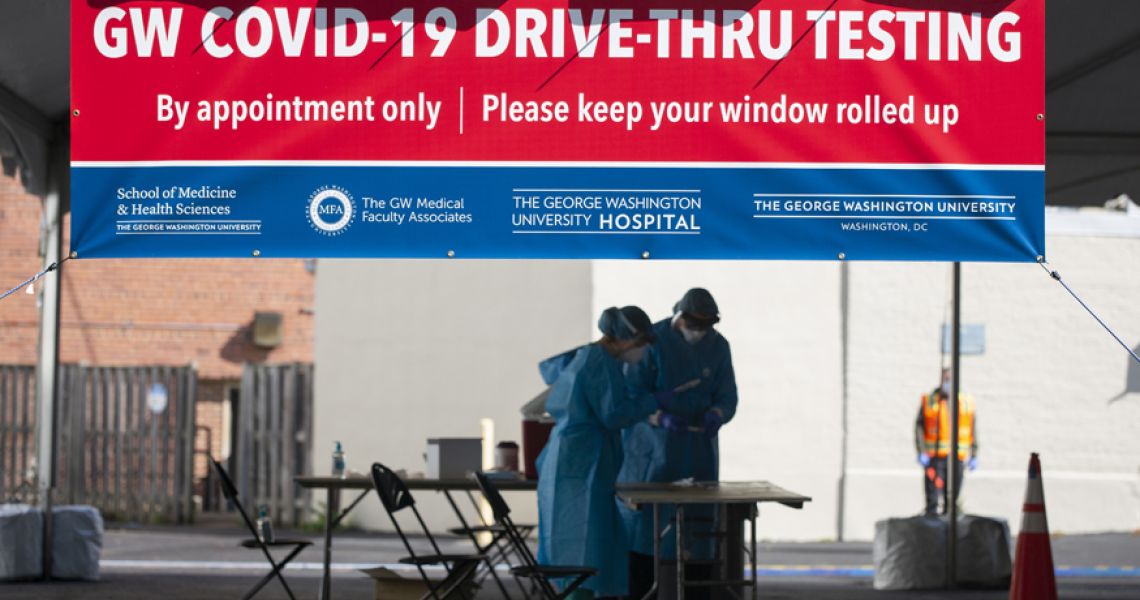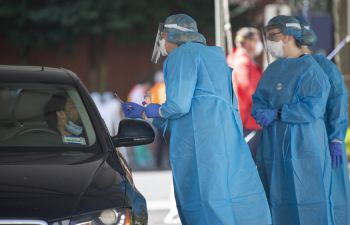 As COVID-19 spread across the U.S., the George Washington University (GW) School of Medicine and Health Sciences (SMHS) faced the challenges of the pandemic head on. From research into the virus and enhanced clinical care to education about the virus and supporting the Washington, D.C., community, the school had to adjust in numerous ways to a "new normal."
The stories featured below show the ingenuity, compassion, and innovation of students, faculty, residents, researchers, and staff throughout SMHS during these trying times. The efforts are ongoing, and the school's commitment to education, novel research, and preeminent clinical care will continue in the months and years to come. 
CARING FOR PATIENTS AND THE COMMUNITY 
GW Physicians, Students Support DC Medical Reserve Corp in COVID-19 Testing Efforts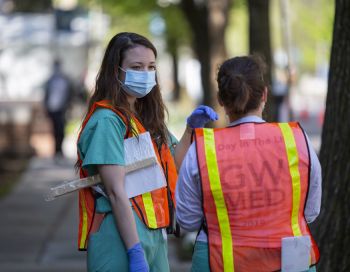 In late March, as COVID-19 cases in the District of Columbia continued their steady rise, Mayor Muriel E. Bowser activated the Medical Reserve Corps (MRC), which supports the DC Department of Health by recruiting, training, and deploying volunteers to assist with emergencies.
As Director of Event and Operational Medicine for The GW Medical Faculty Associates MRC, Drew Maurano, PA-C, has been front and center in the city's efforts to offer COVID-19 testing and response. The DC MRC has conducted numerous trainings, and volunteers include community members, health care professionals, and medical students.
GW Physicians Prioritize Safety When Caring for Patients on Dialysis
Patients with kidney disease require a consistent health care regimen, and all of them are at a higher risk of developing serious illness if they test positive for COVID-19. 
To prevent the spread of COVID-19 and keep safe those patients who are in need of dialysis — which is a process that substitutes the function of kidneys, such as waste removal — clinics have been designated for patients who are under investigation for COVID-19 and for COVID-19 positive patients. 
One such site, Fresenius Kidney Care in Hyattsville, Maryland, is working in collaboration with the Division of Renal Diseases and Hypertension at GW to provide care to patients.  
SMHS Students Put Skills to Use at Bread for the City COVID-19 Testing Site 
Nonprofit Bread for the City is working hard to offer testing to underserved residents throughout the city, an effort made successful with the help of students from SMHS. Fourth-year MD students Margot Quinn and Paulina Ong and PA student Andrew Persaud are just some of the SMHS students who can be found helping with testing, tracking the status of test results, providing education to residents on the virus, and more. 
Students Reach Out to Seniors Facing Isolation Due to Social Distancing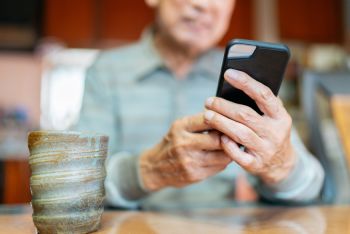 COVID-19 social distancing recommendations can be hard on everyone. Among elderly populations loneliness can have a wide range of negative effects on both physical and mental health. SMHS students are working to combat social isolation by offering a friendly voice for seniors to talk to. 
The idea, GWU Reaching Out, sprung from brainstorming sessions by members of the SMHS Geriatrics and Palliative Medicine Interest Group early on in the pandemic. The students wanted to help others, but weren't sure how. Their mentor, Christina Prather, MD, assistant professor of medicine at SMHS, suggested connecting over the phone with D.C. residents who may feel the most isolated by social distancing. Dozens of students have signed up to participate, 
Couple Forgoes Honeymoon and Uses Expertise to Help Health Care Workers During Pandemic 
When planning their wedding, Yuan James Rao, MD, director of brachytherapy at the GW Cancer Center and assistant professor of radiology at SMHS, and Destie Provenzano, a PhD candidate in the GW Department of Biomedical Engineering, had no idea the day would land amid a global health crisis.
The virus led them to cancel their honeymoon, but Rao and Provenzano were determined to make the most of their time and do what they could to help others. The couple joined forces with Murray Loew, PhD, chair of the GW Department of Biomedical Engineering, and Jeffrey Berger, MD, MBA, chair of the Department of Anesthesiology and Critical Care Medicine at SMHS, to create 3D printed respirators.
Education, Food Access Part of GW Rodham Institute's COVID-19 Response 
For the Rodham Institute, providing help in this unprecedented time is about taking action based on the needs of the community, including helping to feed health care workers and communities in need.
Rodham has joined forces with Goodfynd, a D.C.-based company that, through an app, connects food trucks to consumers, and also has established a new partnership with an organization called Off their Plate, which has distributed over 20,000 meals to nine cities and recently added D.C. to its program. 
In addition to meals, the Rodham Institute also distributed a gift of Surface Pro laptops from Microsoft, Inc., to people and organizations in need thanks to a donation from the computer giant.
Building a Framework to ReOpen the City 
Members of the GW community have been helping Washington, D.C., Mayor Muriel Bowser explore the necessary steps for different stages of reopening the city.
The task force, ReOpen DC, is composed of a steering committee and 11 sector committees. Lynn R. Goldman, MD, MPH, dean of the Milken Institute School of Public Health at GW (Milken SPH), and Jehan "Gigi" El-Bayoumi, MD, RESD '88, founding director of the Rodham Institute, are part of working group 2 under the Human Services, Social Services, and Health committee focused on doctors, dentists, maternal care, dialysis facilities, and nonemergency medical care.
PRIORITIZING COVID RESEARCH
GW Alumnus Richard Whitley, MD '71, Discusses Remdesivir Research, Use Against COVID-19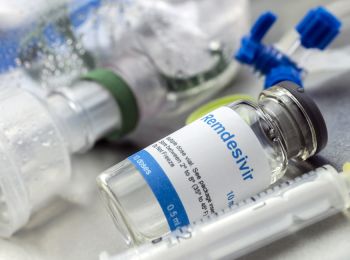 One drug showing early promise against COVID-19 is remdesivir, which is being studied at the University of Alabama at Birmingham (UAB) with the help of GW alumnus Richard Whitley, MD '71, Distinguished Professor of Pediatrics; professor of microbiology, medicine and neurosurgery; vice chair of the Department of Pediatrics, and member of the O'Neal Comprehensive Cancer Center at UAB. Whitley participated in a Q&A on the research into remdesivir, its use in patients infected with COVID-19, and the impact his work has had in drug development.
Observational Study Seeks to Better Define COVID-19 Virus
A GW Hospital study, led by Andrew Meltzer, MD, associate professor of emergency medicine at SMHS, is investigating the symptomatology, follow-up care, baseline laboratory studies, and disposition of the COVID-19 virus to better prepare the country for a possible resurgence of the virus later in the year.
GW is one of more than 40 sites across the country collecting outcomes data for thousands of patients across the United States to get a representative sample of COVID-19 in the emergency department. The goal is to develop a defined picture of the illness, its symptomology, and risk factors for adverse events or positive outcomes gleaned from more than 20,000 patient experiences across the country.
GW Sets Up COVID-19 Specimen Bank to Accelerate Research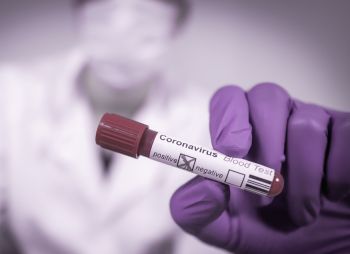 The specimen bank houses samples from COVID-19 positive patients at four different times during their infection from day one to 11, according to Aileen Chang, MD, MSPH, assistant professor of medicine at SMHS, the principal investigator for the collection.
Those patients will also provide samples for 10 weeks, 6 months, and a year after recovery.
Samples will include nasal swabs and blood and urine samples taken while the patients are still infected. Once they have recovered, samples will also come from penile, vaginal, and anal swabs, Chang explained.
COVID-19 Patient Data Registry Supports Research by Faculty, Students Across GW 
Students and researchers across GW are part of an effort to build a registry of information on GW Hospital patients suffering from the novel coronavirus, capturing data on demographics, medical history, treatments, and more. Researchers across the GW medical enterprise are using the information to learn more about a virus that continues to create more questions than answers.
More than 50 MD and post-baccalaureate student volunteers are assisting with the data collection. Students from the Milken Institute School of Public Health at GW also are helping better cull the information. Data that won't just be used by faculty researchers, but for student-led research as well. 
Adam Kilian, MD, Serves as Regional Leader for COVID-19 Global Rheumatology Alliance
Chronic rheumatic diseases, such as lupus and rheumatoid arthritis, and their treatments, may make patients more susceptible to contracting COVID-19 and may affect the severity of the virus, according to Adam Kilian, MD, assistant professor of medicine in the Division of Rheumatology at SMHS.
Kilian serves as a regional leader for the newly established COVID-19 Global Rheumatology Alliance, which is collecting and analyzing clinical data from patients with rheumatic diseases for an international registry. "We hope to understand who is at greatest risk and address knowledge gaps regarding the influence of rheumatic conditions and rheumatic medications on the outcomes of patients who develop COVID-19, and to combat misinformation," he said.
Andrew D. Choi, MD, Leads Guidance for Heart Disease Medical Professionals During Pandemic
For millions of individuals at risk around the world, the ability to diagnose heart disease and deliver care has been severely impaired by the COVID-19 pandemic.  
Andrew D. Choi, BA '03, MD '08, co-director of Cardiac CT and MRI and associate professor of medicine and radiology at the George Washington University School of Medicine and Health Sciences, has helped direct international efforts to address this gap through recent guidance statements in heart imaging.
In the first document, published by the Society of Cardiovascular Computed Tomography and endorsed by the American College of Cardiology, Choi served as co-chair alongside co-authors from Brigham and Women's Hospital, Massachusetts General Hospital, Stanford University, Innsbruck Medical University in Vienna, Austria, the University of Milan, Italy, and the University of Edinburgh, among others. The paper offers guidance for cardiac computed tomography (CCT) practitioners for optimal timing considerations to use the technology to improve cardiovascular health outcomes. The guidance looks at elective indications where scans can be safely deferred versus performed urgently.  
Choi also helped author a second document, published by the editorial board of the Journal of the American College of Cardiology: Cardiovascular Imaging, of which Choi serves as an editor, in collaboration with the American College of Cardiology Imaging Leadership Council. The article discusses how cardiovascular professionals can enable a return to a "new normal" to deliver care for heart patients as the pandemic enters a deceleration phase in many parts of the world.
ENHANCING COVID-19 EDUCATION
SMHS Clinical Public Health Faculty Host Learning Lab on COVID-19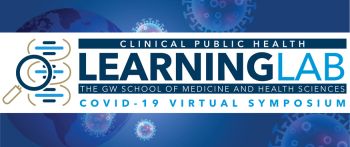 SMHS is working to keep students, faculty, and staff informed about clinical public health and COVID-19 through a new online Learning Lab educational series.
The first symposium, hosted by Karla Bartholomew, PhD, JD, MPH, PA, program and development officer for clinical public health; Patients, Populations, and Systems course director; and director of the dual-degree MD/MPH program at SMHS, included topics related to COVID-19 such as zoonotic infections, epidemiologic measures in COVID-19, public health law, current public policy and advocacy efforts, and wellness practices. 
Attendees of the second SMHS Learning Lab were educated on the effects of the virus on marginalized communities throughout the United States. The Learning Lab is part of a new effort by SMHS clinical public health faculty to teach students, faculty, and staff about pressing clinical public health topics and their implications.
Knowledge is Power: GW Intelligence Unit Develops Weekly Reports on COVID-19 
Information management is key to the success of any emergency response, and with the COVID-19 pandemic there's been a tidal wave of updates on the virus. To contain that flood of information, faculty and staff across GW are developing weekly intelligence reports for frontline providers and leaders throughout the GW medical enterprise.
The Intelligence Unit is made up of more than 25 faculty experts from the GW MFA, GW Hospital, SMHS, the Milken Institute School of Public Health at GW, and the GW School of Nursing, as well as Himmelfarb Health Sciences Library reference librarians.
SMHS and Elliott School Hold Webinar on Anti-Asian Racism During COVID-19 
Amid the growing anti-Asian sentiment in the United States because of COVID-19, the GW Elliott School of International Affairs and the SMHS Office of Diversity and Inclusion hosted a webinar to inform students, faculty, and staff about the issue and address strategies to support targeted groups.
During the more than hour-long virtual event, faculty, staff, and students from the two schools discussed disinformation about COVID-19, made recommendations on how to be inclusive of all perspectives related to the health situation, and offered advice on how to support disproportionately targeted and vulnerable groups during the pandemic.