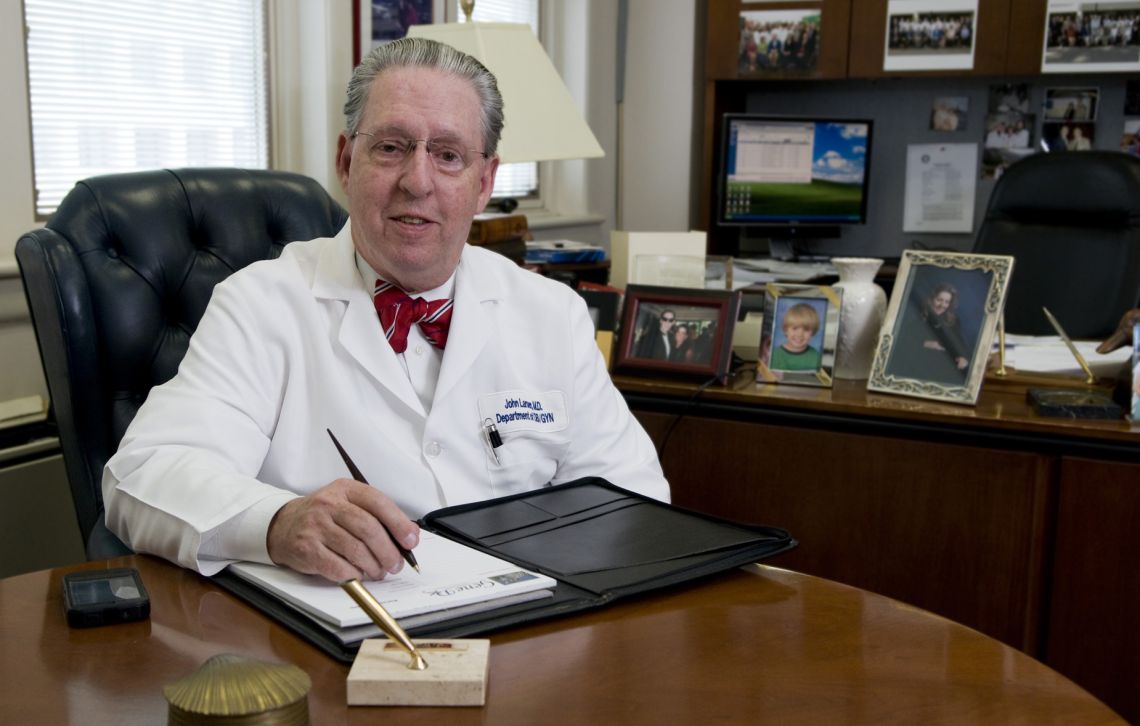 John W. Larsen Jr., MD, FACOG, FACMG, Professor Emeritus of Obstetrics and Gynecology, passed away on Jan. 6, 2021.
For more than 42 years Dr. Larsen was a fixture in the Department of Obstetrics and Gynecology, joining the George Washington University faculty in 1975 as an assistant professor of obstetrics and gynecology and ultimately rising to become chair in 2004. He made countless positive contributions to the careers of the physicians and residents serving in the department.
Larsen was also among a notable list of GW physicians to hold the Oscar I. Dodek and Mildred S. Dodek and Joan B. and Oscar I. Dodek Jr., MD '56, JD '85, professorship, established in 1982, including Allan B. Weingold, MD, HON '98, Professor Emeritus of Obstetrics and Gynecology; Harold E. Fox, MD; and current Dodek Professor and Chair, Nancy D. Gaba, MD '93, RESD '97. He also served as medical director of the MFA and as a trustee of GW Hospital.
Larsen was a fellow of both the American College of Gynecology and the American College of Medical Genetics and Genomics. Among his many accomplishments, in 2016, he received the prestigious Hellman Midwifery Partnership Award, in recognition for having demonstrated outstanding support for midwifery. He is credited with bringing midwifery care back to GW Hospital after an absence of more than 20 years. Larsen also helped expand access to comprehensive, evidence-based obstetric care at GW Hospital.
He was a graduate of Dartmouth College in 1964 where he earned his undergraduate degree, and he earned his medical degree from Cornell University Medical College in 1968. As a United States Army Special Forces Green Beret, Larsen trained in mountain and winter warfare in the early 1960s.
Jerrold M. Post, MD, George Washington University (GW) Professor Emeritus of Psychiatry, Political Psychology, and International Affairs, died, Nov. 22, of complications from COVID-19, according to an obituary in The Washington Post. He was 86.
Post devoted his career to the field of political psychology. He joined the faculty of the Elliott School of International Affairs and the School of Medicine and Health Sciences at GW, following a 21-year career with the Central Intelligence Agency as a psychological profiler. He founded and directed the CIA Center for the Analysis of Personality and Political Behavior.
Alice Hackney Altstatt, MD, congestive heart failure Jan. 10, 2021. Hackney, who was born in Baltimore, and grew up in Caroll County, Maryland, earned her medical degree from Vanderbilt University School of Medicine in 1956, and completed a residency in anesthesiology at the University of California, San Francisco. She joined the faculty of The George Washington University School of Medicine and Health Sciences in 1964 as a professor of anesthesiology. She was Chief of Obstetric Anesthesiology and served as Secretary of the Society of Obstetric Anesthesiology and Perinatology until her retirement from GW in 1989.
Donald E. Henson, MD, clinical professor of pathology at GW SMHS, passed away Sept. 29, at age 85. A retired Captain in the U.S. Public Health Service, Henson was a renowned pathologist and cancer researcher who authored 235 peer-reviewed manuscripts and numerous textbook chapters.
1950s
John Allen Arness, MD '57, BA '53
Robert F. Feltman, MD '52, BA '49
Miriam B. Rosenthal, MD '53
James H. Stallings Jr., MD '52
Theodore C. Woy, MD '58
1960s
William R. Adams, MD '66, RESD '70
Ed D. Barham, MD '66
Grover "Bill" Bedeau Jr., MD '62, RESD '64
Kenneth C. Cummings Jr., MD '69, BS '65
William Carr Flanagan, MD '64
Seymour Gendelman, MD '64
Philip A. Goddard, MD, RESD '64
Fred E. Hatch Jr., MD, RESD '60
William M. Hinz, MD '64
William M. Lundie, MD '62
George William Lose, MD '64
Duncan K. McDonald, MD '60
Robert H. Patterson, MD '69, RESD '73
1970s
Elaine Wolf Cotlove, MD, RESD '74
Stanley G. Crossland, MD '71, RESD '76
Michael Davidson, MD, RESD '70
J. Ward Donovan, MD '74
Gerardo M. Gacad, MD, RESD '72
Paul D. Holman, MD, RESD '75
Zachary Kanjuparamban, MD, RESD '74
Joy Dent King, MD '72
David M. Rose, MD '79
John Duane Wojcik, MD '70
1980s
Kathy Sue Brenneman, MD, RESD '86, MPH '96
Gary S. Marrone, MD, RESD '81
Tamara Jane Razi, MD '87
Lisa Sapperstein, MD '85, BA '74
1990s
Ronny Ginor, MD '98, BA '93
Walter Karl Pettit, BS '95
Thomas Pidduck, MD, RESD '98
2000s
Lauren E. Marsillio, MD '07
2010s
David J. Watson, BS '19