First-year medical students at the GW School of Medicine and Health Sciences (SMHS) had just wrapped up their course work in immunology and pathogenesis when they reached the short break before the end of the semester known as "intersession." Leaving the classroom behind, the Class of 2019 embarked on a three-day intensive look at the HIV/ AIDS epidemic — part of the clinical public health component of the revised M.D. curriculum — that culminated in a visit to the White House.
"One of the main reasons I came to GW was that integrated clinical public health is in our curriculum," said Erin Good, a first-year M.D. student at SMHS and intersession group leader. "I think that [intersession] is a great example of something that shows us both the medical side and the integration of policy and public health."
The program, "How Physicians Can Help Create an AIDS-Free Generation," kicked off with lectures from renowned leaders in HIV/AIDS, including Anthony Fauci, M.D., director of the National Institute of Allergy and Infectious Diseases at the National Institutes of Health. Students later met face to face with visiting leaders from the front lines of the HIV/AIDS fight in Washington, D.C.; Tennessee; San Francisco; and New York City to address issues specific to those jurisdictions. On the final afternoon of intersession, the student groups, divided by region, presented their solutions, many of which incorporated the use of social media and novel user apps, to a panel of experts.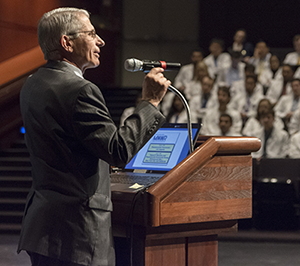 Good said that initially, ideas such as expanding needle exchange programs or establishing a web-based peer mentorship platform seemed formidable. "Now, these aren't lofty," Good said. "We can actually do these. It's pretty cool to see that."