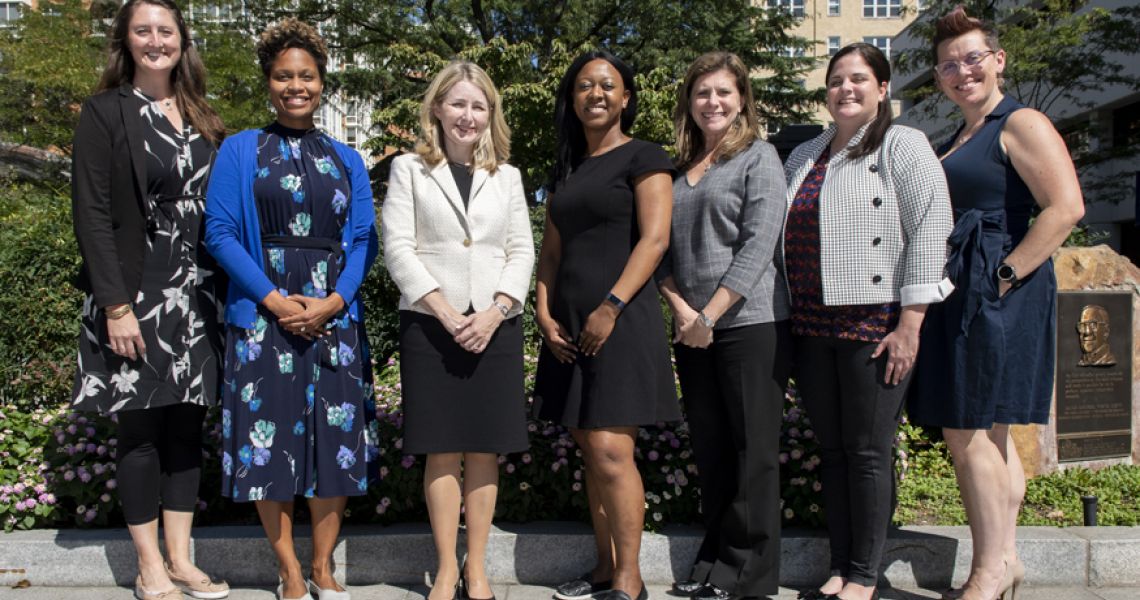 In 1884, the George Washington University (GW) School of Medicine and Health Sciences (SMHS) opened its doors to its first female medical students. In 1887, Clara Bliss Hinds became the first woman to graduate from the school with a medical degree.
More than a century later, GW faculty have honored Hinds' legacy by naming the GW chapter of the Group on Women in Medicine and Sciences — a unit of the American Association of Medical Colleges — the Clara Bliss Hinds Society. The group was envisioned by the Task Force on Women Faculty formed by then-SMHS Dean Jeffrey S. Akman, MD, '81, RESD '85, in July 2018 and led by Jean E. Johnson, PhD, RN, Dean Emerita of the GW School of Nursing.
"Clara Bliss Hinds forged a pathway for women in medicine," Victoria Shanmugam, MD, director of the Division of Rheumatology and professor of medicine at SMHS, says. "I think it was very hard for her, not only to break down barriers that blocked the entry of women into medical school, but also the challenges she faced once accepted and after she graduated. There wasn't really a place yet for female physicians and she developed her own career pathway.
The Clara Bliss Hinds Society, which Shanmugam chairs, was founded with the aims of facilitating career and leadership skill development, mentoring, and networking; enhancing the work environment for women; and promoting equity of promotion, tenure, and recognition. The society welcomes and advocates for female faculty members at SMHS across clinical, health sciences, and basic sciences programs and makes it a priority to reach out to faculty based at Children's National Hospital. The group meets monthly to discuss topics of interest to members and features skill development workshops and presentations from female leaders.
"Having a group like this at a medical school is important to address issues that arise while being a female faculty member, but in particular, related to being a clinician or researcher," says Rebecca Lynch, PhD, assistant professor of microbiology, immunology, and tropical medicine at SMHS and treasurer for the Clara Bliss Hinds Society.
"I think given everybody's busy schedules, it's fairly easy to stay somewhat siloed in your own department and even siloed in your own specialty," says Lisa Schwartz, EdD '10, associate professor of biomedical laboratory sciences at SMHS and member-at-large in the society. "This is a nice way for faculty across the board to have opportunities to network and have conversations on topics that don't really have those artificial boundaries that the departments tend to put up."
In March 2020, Barbara L. Bass, MD, RESD '86, vice president for health affairs, dean of SMHS, and CEO of The GW Medical Faculty Associates (GW MFA), joined society members for a conversation about her career and her vision for SMHS and the GW MFA. She also shared words of wisdom about supporting the next generation of women in medicine and science.
Bass imparted on the group the importance of lifting up colleagues through the ranks as female surgeons did for her. "These women were active, intentional sponsors," she says of her mentors who would seek out the "worthy women" who often found themselves in institutions without active sponsorship. These three women surgeon pioneers wrote letters of recommendation and made calls to organizations and institutions recommending me and other mid-career women surgeons for leadership opportunities. "By having these women take on this mission for others, work that my cohort has carried on, we have dismissed the falsely held notion of the "queen bee" phenomenon – that there is only room for one woman to rise to the top and that women will not support each other. We committed to looking after each other, and our own, and in so doing transformed the look of leadership in surgery over the last three decades."
That meeting was the last the group had before the COVID-19 pandemic led to stay-at-home orders in Washington, D.C. In May, the society launched online meetings to facilitate continued connection and discussion with their colleagues. The speaker for May's meeting, Dean Emerita Johnson, helped the group discuss coaching their teams through the COVID-19 crisis.
In addition to regular formal meetings, the online experience includes a monthly networking opportunity called Clara Bliss Connects. This informal meeting invites members to discuss their successes and challenges and share advice with one another. In May, the Clara Bliss Connects meeting focused on how people are overcoming the challenges of working remotely during the pandemic. The event in June provided an opportunity to celebrate recent promotions and open discussion about the barriers members have experienced in their career journeys and their tactics for moving themselves forward.
While COVID-19 has derailed several plans for the Clara Bliss Hinds Society, Shanmugam says they look forward to getting back to their in-person discussions and meetings, as well as setting up a date for their Annual Women in Leadership Event, originally slated for June 2020, to celebrate the accomplishments of women at SMHS.
---
Beyond Barriers: Clara Bliss Hinds, MD 1887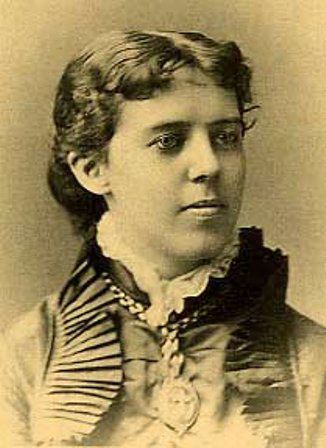 In 1884, Clara Bliss Hinds, along with Ellen W. Cathcart, Sarah A. Schull, and Alice J. White, successfully appealed the administration of the George Washington University (then known as the Columbian College) for admission as the first female students in the school's medical degree program.
Bliss Hinds, a 32 years old and the mother of a 3-year-old daughter when she began her medical training, was no stranger to the profession. Her father, Willard Bliss, MD, attended to James A. Garfield, 20th president of the United States, when he was fatally wounded following an assassination attempt in 1881.
"They were grinding years. Competing in what was then regarded as purely man's work, we were doing what no woman had done in the school before us," Bliss Hinds told Washington Post reporter Marion Butler in a June 6, 1936, article headlined "First Woman MD Here Fought Pioneer Battle," which focused on Bliss Hinds' groundbreaking admission to medical school. For decades, her admission distinguished GW as one of the only medical schools in the nation to admit women.
Three years later, in 1887, Bliss Hinds was the only woman among 50 men to cross the stage at the Washington Congregational Church and receive her MD diploma. Following graduation, she partnered with Ida J. Heiberger, MD, to found the Washington Women's Clinic in 1891. The practice would continue for more than 60 years providing medical care for women by women, according to the Records of the Columbia Historical Society.
Bliss Hinds died on Oct. 31, 1940. She was 88 years old. She is buried at Rockville Union Cemetery in Rockville, Maryland.